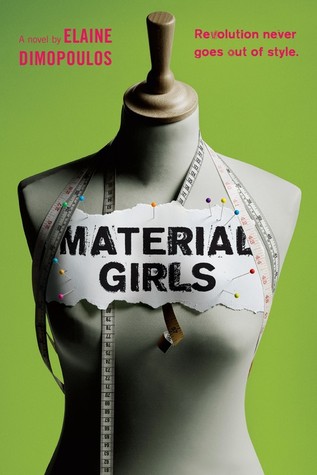 In Marla Klein and Ivy Wilde's world, teens are the gatekeepers of culture. A top fashion label employs sixteen-year-old Marla to dictate hot new clothing trends, while Ivy, a teen pop star, popularizes the garments that Marla approves. Both girls are pawns in a calculated but seductive system of corporate control, and both begin to question their world's aggressive levels of consumption. Will their new "eco-chic" trend subversively resist and overturn the industry that controls every part of their lives?
Smart, provocative, and entertaining, this thrilling page-turner for teens questions the cult like mentality of fame and fashion. Are you in or are you out?
Description taken from Goodreads. I received this book, released May 5th, 2015 via the publisher in exchange for an honest review. These opinions are my own.
---
I honestly had very little idea of what was going on the entire time in MATERIAL GIRLS, which is partially why I rated it down. It was also partially because the author basically created this word to try to explain oh yes, people have way too much focus and pressure on fashion and it's all about the social machine and whatnot. That's all great. I was game when we started this fantastical journey, and then two things happened that really turned me off from this story. The first was that words like placidophilus are used as slang (not even joking), with very little explanation as to what these words actually mean. I mean–I was able to get through and understand Blood Red Road, but this is just kind of ridiculous.
The second was the fact that basically nothing happened in this story. 
If the characters had grown, maybe then I would've been able to look past some of the actions of the characters and their personalities. Maybe then I could've tried to give some credit to the world, to the idea that Dimopoulos presents in MATERIAL GIRLS.
No. Didn't end up happening.
And for the record, if you are a person who does not approve of slut shaming, you probably should not read this book.
So yes, I had very little idea of what was going on for long chunks of this book, and smaller chunks that had to do with actually understanding the slang, which I didn't. For the most part, at all.
I really wanted this to be the story that showed how exploitative and corrupted the fashion industry has become in many aspects of it, but I felt like at least for me, this story didn't really deliver. There were moments that I really loved the world-building, descriptions and pacing. The general ideas were there, the execution just fell short for me. Would not recommend this story, but maybe Paul Rudnik's GORGEOUS or Jennifer Castle's YOU LOOK DIFFERENT IN REAL LIFE. 1.5 stars.
pg count for the hardback: 336