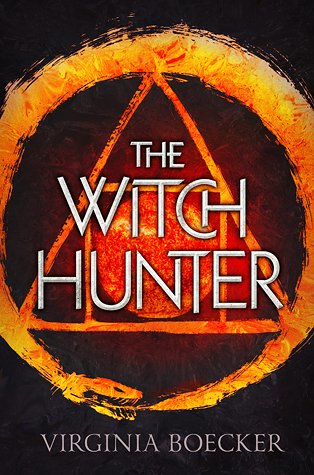 The magic and suspense of Graceling meet the political intrigue and unrest of Game of Thrones in this riveting fantasy debut.

Your greatest enemy isn't what you fight, but what you fear.

Elizabeth Grey is one of the king's best witch hunters, devoted to rooting out witchcraft and doling out justice. But when she's accused of being a witch herself, Elizabeth is arrested and sentenced to burn at the stake.

Salvation comes from a man she thought was her enemy. Nicholas Perevil, the most powerful and dangerous wizard in the kingdom, offers her a deal: he will save her from execution if she can break the deadly curse that's been laid upon him.

But Nicholas and his followers know nothing of Elizabeth's witch hunting past–if they find out, the stake will be the least of her worries. And as she's thrust into the magical world of witches, ghosts, pirates, and one all-too-handsome healer, Elizabeth is forced to redefine her ideas of right and wrong, of friends and enemies, and of love and hate.

Virginia Boecker weaves a riveting tale of magic, betrayal, and sacrifice in this unforgettable fantasy debut.
Description taken from Goodreads. I received an advance copy of this book, to be published June 2nd, 2015 via the publisher in exchange for an honest review. These opinions are my own.
---
Lately, there have been a few fantasies that have really just blown me away and you should definitely listen to the hype (for the most part). Books like these this year have been A Court of Thorns and Roses by Sarah J. Maas (author of the Throne of Glass series), An Ember in the Ashes by debut Sabaa Tahir and Red Queen by Victoria Aveyard (debut – review to come :D).
Unfortunately, this falls under the category of fantasies that pretty much disappointed me and fell short of what I had expected.
THE WITCH HUNTER is great. It has witches, it has witch hunters. What's not to love?
Well, in terms of world-building and characters, I felt like THE WITCH HUNTER was pretty cliché. Magic has been banned and instalove runs rampant. There are tons of guys to just lurveeeee because of course all of them are lovable and wonderful. There's a mean girl who always seems to be one step ahead, and there's a love triangle. There's political unrest, but the reason why the people are only just now stepping up is kept unclear.
And Elizabeth just didn't click with me. I felt like she was really shallow, and never stops to think about what's right in front of her. People with magic just happen to be the only ones ready to rescue her, and when they do they save her life, and all she can think about it just how evil they are. She refuses their food and their service, and she's rude to the people who try to help her or befriend her. Other than trying to get back to her wonderful life as a witch hunter and managing to have her own little romance in the process, she really thinks about nothing else.
Not only that, but THE WITCH HUNTER is pretty boring. I was skimming the entire middle, and when I got to the end that was when things really started to get good. I will say that this book has a fantastic supporting cast and a good ending, but other than that I just wanted more from the plot, from Elizabeth, from the romance.
Honestly, I wanted more from Elizabeth, because from looking at the supporting cast, she could have really made them shine. I had hoped that this story could step above and be more, but that's not the way it turned out for me. I do think that people who enjoy books about historical fantasy, maybe Jen McConnel's books, should read this book–or try Jen's–but it wasn't for me. 2 stars.
pg count for the hardback: 268 pages
Series: The Witch Hunter #1