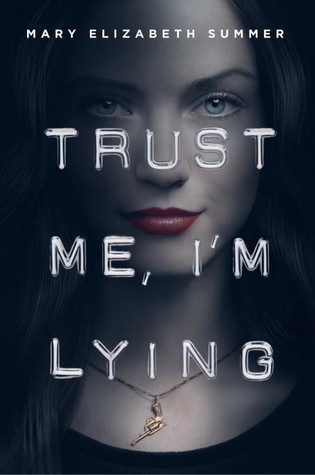 Fans of Ally Carter, especially her Heist Society readers, will love this teen mystery/thriller with sarcastic wit, a hint of romance, and Ocean's Eleven–inspired action.

Julep Dupree tells lies. A lot of them. She's a con artist, a master of disguise, and a sophomore at Chicago's swanky St. Agatha High, where her father, an old-school grifter with a weakness for the ponies, sends her to so she can learn to mingle with the upper crust. For extra spending money Julep doesn't rely on her dad—she runs petty scams for her classmates while dodging the dean of students and maintaining an A+ (okay, A-) average.

But when she comes home one day to a ransacked apartment and her father gone, Julep's carefully laid plans for an expenses-paid golden ticket to Yale start to unravel. Even with help from St. Agatha's resident Prince Charming, Tyler Richland, and her loyal hacker sidekick, Sam, Julep struggles to trace her dad's trail of clues through a maze of creepy stalkers, hit attempts, family secrets, and worse, the threat of foster care. With everything she has at stake, Julep's in way over her head . . . but that's not going to stop her from using every trick in the book to find her dad before his mark finds her. Because that would be criminal.
Description taken from Goodreads.
---
For the most part, TRUST ME was great. I loved reading it. It was really entertaining, and I greatly enjoyed hearing about Julep's little schemes. She was a really well-developed character and I liked her relationships with the other characters. Relationships between characters and the well-crafted schemes talked about in TRUST ME were the highlights for me. Getting to know Julep's world was a ton of fun, and I was never bored. It wasn't an information overload, but just enough.
I really like stories where the main character comes to have a group that you can support and love and work together well (even if they have their own issues), and that group developed really nicely in TRUST ME. It definitely wasn't the way that I thought TRUST ME would go, and that was a refreshing twist to the plot. The way that Summer ties up her plot piece by piece was done really well, and I liked how everything was kept aligned so it wasn't hard to understand.
All in all, this is a great spy kind of story. The writing is good, the plot is clear and the characters are pretty well-developed. There were a few questionable moments in Julep's grifting, but not so much so that I thought it was entirely unrealistic. There's just enough romance to make this YA, but not enough to make it questionable for MG readers.
What I didn't necessarily agree with was the ending. I liked how things ended up, but at the same time there's a character who dies and just happens to be one of the major characters. I didn't disagree with the death because I didn't feel like it was undeserved, or that it just didn't work in the plot, but because of pacing. Yes, shocker, this person died, but I thought that the pacing was all off.
The way that this didn't work was because I thought that the plot was going a certain way, and it took this sharp left turn. That's how necessarily a bad thing, but I had no idea why this person had to die so suddenly. I didn't really see the point of it, like it was just an emotional appeal kind of thing. I don't know, maybe more will be revealed in the second book. For now, this was a great read that I will definitely be recommending for fans of Ally Carter, but did have some questionable moments. 3 stars.
pg count for the hardback: 336
Series: Trust Me #1