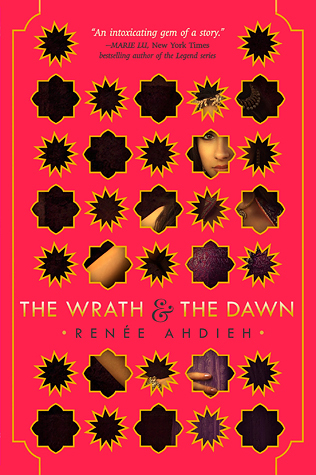 A sumptuous and epically told love story inspired by A Thousand and One Nights

Every dawn brings horror to a different family in a land ruled by a killer. Khalid, the eighteen-year-old Caliph of Khorasan, takes a new bride each night only to have her executed at sunrise. So it is a suspicious surprise when sixteen-year-old Shahrzad volunteers to marry Khalid. But she does so with a clever plan to stay alive and exact revenge on the Caliph for the murder of her best friend and countless other girls. Shazi's wit and will, indeed, get her through to the dawn that no others have seen, but with a catch . . . she's falling in love with the very boy who killed her dearest friend.

She discovers that the murderous boy-king is not all that he seems and neither are the deaths of so many girls. Shazi is determined to uncover the reason for the murders and to break the cycle once and for all.
Description taken from Goodreads.
---
A lot of promising fantasy came out this year, which is awesome for me because my favorite genre is fantasy, and THE WRATH & THE DAWN was definitely on the list of promising 2015 fantasy.
As of right now, I can't completely tell if I loved it or hated it, but I'll try to explain some of that feeling through this review.
THE WRATH & THE DAWN is incredibly well set up. I loved the world-building. It was everything world-building should be. I felt like I was there with the characters. And the writing. Wow. Ahdieh is the type of descriptive author that makes you want to actually see the splendor of it all, weaving words that create scenes like that right out of Asgard.
The descriptions are amazing. I loved getting to know the characters through Ahdieh's words, and the way each of them was built up was great to watch.
One thing that I think ruined but also added to THE WRATH & THE DAWN was the point of view. TWTD is told in third person, and while I didn't think it distanced me from the characters, it made the huge cast of characters nearly overwhelming. I felt like I was being constantly being bombarded throughout the beginning with new names, new faces, new creatures. In that aspect, I felt like TWTD would have been better told just from the third-person POV of certain people.
For example, the way that Rick Riordan did his Heroes of Olympus series. There was a rather large cast, but it worked. I clearly knew who everyone was.
For TWTD, I wished it things had been a little more clear. I flipped back from time to time just to make sure who was talking was who I thought it was.
Then it comes down to characters. I loved the characters, their natures, their desires, how whole they were. What I didn't love was Khalid and Shazi's personalities from time to time. Shazi is rude and outspoken to Khalid, the person who rules their nation, from the second that she meets him. Khalid is prone to outbursts and is a little too sensitive. I could understand that they had their flaws, and I liked that none of Ahdieh's characters were perfect, but for the first half of TWTD, I couldn't believe in Shazi. I didn't understand how she could hate and fear someone all her life and then act around that person with casual meanness.
The ending was what really shined and what saved the characters for me that I had previously disliked. While I didn't always love Shazi, I admired her will and determination. Ahdieh stays focused on the reason why Shazi's there in the first place (her best friend was killed by Khalid) and doesn't really drift off. For those reasons, I really enjoyed the writing of TWTD.
Romance was the biggest part of what did and didn't work in TWTD. Firstly, there are some really sweet scenes, and the way that the characters act about the romance makes sense. Secondly, it was bordering heavily on instalove. The story revolves around Shazi to the point where everyone is trying to cater to her. Almost nothing happened between Khalid and Shazi before they fell in love.
Overall, THE WRATH & THE DAWN was a good read, but not everything I was expecting. The ending really shined, the writing was great, the characters were well-developed, but the POV, the romance and the character personalities didn't work for me at many different moments. I liked how convoluted it was and how everything came together in the end. I would recommend TWTD, but it didn't entirely work for me. 3 stars.
pg count for the hardback: 395
Series: The Wrath & The Dawn #1