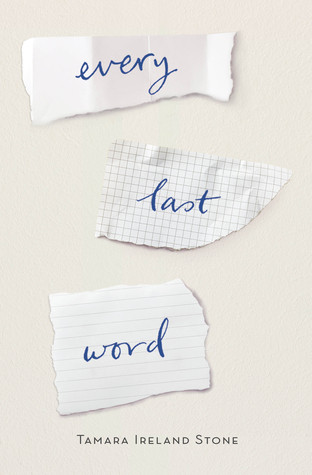 If you could read my mind, you wouldn't be smiling.

Samantha McAllister looks just like the rest of the popular girls in her junior class. But hidden beneath the straightened hair and expertly applied makeup is a secret that her friends would never understand: Sam has Purely-Obsessional OCD and is consumed by a stream of dark thoughts and worries that she can't turn off.

Second-guessing every move, thought, and word makes daily life a struggle, and it doesn't help that her lifelong friends will turn toxic at the first sign of a wrong outfit, wrong lunch, or wrong crush. Yet Sam knows she'd be truly crazy to leave the protection of the most popular girls in school. So when Sam meets Caroline, she has to keep her new friend with a refreshing sense of humor and no style a secret, right up there with Sam's weekly visits to her psychiatrist.

Caroline introduces Sam to Poet's Corner, a hidden room and a tight-knit group of misfits who have been ignored by the school at large. Sam is drawn to them immediately, especially a guitar-playing guy with a talent for verse, and starts to discover a whole new side of herself. Slowly, she begins to feel more "normal" than she ever has as part of the popular crowd . . . until she finds a new reason to question her sanity and all she holds dear.
Description taken from Goodreads. I received an advance copy of this book, released June 16th, 2015, from the publisher in exchange for an honest review. These opinions are my own.
---
Wow.
Okay.
If that was not a powerhouse of a novel, I don't know what was. Powerhouse definitely was NOT the word to describe EVERY LAST WORD for the first half-ish or so. In fact, the slow pace just about killed me. That, and the fact that there was way too much going on at once, especially as the story went on towards the middle and end.
The only thing that kept me going was Stone's writing and my interest in Samantha.
It was the right decision.
EVERY LAST WORD is an amazing look at a girl with OCD. Not comical OCD, not low-key OCD, but in your face, uncontrollable OCD. There's nothing pretty or funny about it, and that's what makes this novel. I don't even know where to begin with the picture that Stone painted with this novel. It doesn't just talk about OCD and mental health, but bullying, fear, self-image, peer pressure, healing and real friends.
On top of the great themes, Stone's prose is just as good as it's ever been, even better.
"When I finally pulled into the driveway that evening, the last digit was resting on a six, so I backed out again and drove around the block a few times until the odometer stopped where it belonged. And now I have to do that every time I park."
It wasn't just Sam that made this all possible. It was the way she got to know AJ, the love interest of this novel, and the way that he accepts her and they learn from each other. Their relationship isn't easy. It's heartbreaking in the same way that Sam's situation is, but they learn to cope with it.
Overall, if you're a contemporary fan, I would recommend this to you. The last half of this novel shines, and it's perfect for fans of Ann Aguirre's The Queen of Bright and Shiny Things or Jennifer Niven's All the Bright Places. Even if you aren't a fan of verse, this story is definitely worth a read. 3 stars.
pg count for the hardback: 368