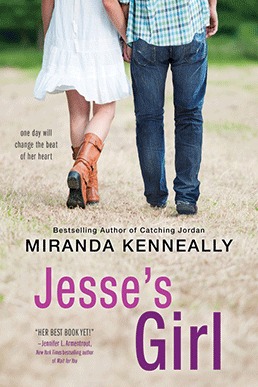 Practice Makes Perfect.

Everyone at Hundred Oaks High knows that career mentoring day is a joke. So when Maya Henry said she wanted to be a rock star, she never imagined she'd get to shadow *the* Jesse Scott, Nashville's teen idol.

But spending the day with Jesse is far from a dream come true. He's as gorgeous as his music, but seeing all that he's accomplished is just a reminder of everything Maya's lost: her trust, her boyfriend, their band, and any chance to play the music she craves. Not to mention that Jesse's pushy and opinionated. He made it on his own, and he thinks Maya's playing back up to other people's dreams. Does she have what it takes to follow her heart—and go solo?
Description taken from Goodreads. I received an advance copy of this book, to be released July 7th, 2015 via the publisher in exchange for an honest review. These opinions are my own.
---
In short, JESSE'S GIRL is the second best Miranda Kenneally book I've ever read, second only to CATCHING JORDAN (because Jordan and because it was the first Kenneally novel I read). JESSE'S GIRL isn't just about the romance, though the romance is great. It's also about religion, family, betrayal and art. I loved how Kenneally wrote this book in the way that only she can, and how she branched far into both Jesse and Maya to find something I never thought I would get out of this story.
First and foremost, Maya. She doesn't measure up to Jordan all the way, but I should mention that she's Jordan's sister-in-law. I absolutely loved seeing Jordan and Sam in this story because of how far they've progressed, the fact that they're still a couple and the everyday aspects of their relationship. But Maya. Maya is everything I wanted her to be, and more. She's strong and funny, but not pushy. She loves her art, but she knows she's flawed. She's got her strengths and her weaknesses, and I loved every second of getting to know her.
Secondly, Jesse. Jesse is really the shining star of this novel for me. He displays every aspect of Kenneally's strengths. Jesse isn't all that he seems. At first glance, he's a spoiled country star that's still just a kid. Digging deeper, he's someone who truly loves his music. He's still a kid, but his values are that of an adult's. I got to know Jesse right alongside Maya and he's a really good guy. Maya and Jesse's relationship is OTP worthy, and there was some great banter and really cute moments mixed into JESSE'S GIRL.
Speaking of the romance, Kenneally does a great job of taking Jesse and Maya's most vulnerable points and pushing their buttons to make them tick. Their relationship was a little instalovey, but the nature of the story kind of made it that way. I wish their relationship was more drawn out, but the aspects were all there so I didn't mind the timing of it as much.
Religion is the #1 thing that kind of struck me in this novel. I won't say that I completely agree with everything in here. Jesse's a Christian, but he sings about girls in his songs. His family doesn't like that.
One, I do thing that Jesse's struggle to hold onto his family, his music and his values all at the same time was believable and incredibly well done. The fact that he loves his family and tries to hold onto them despite their conflicting moments is something that's not really talked about in YA in these circumstances, and I applaud Kenneally for that.
Two, I don't think Jesse really exemplified what it means to be a Christian in this story. He was really hypocritical at times.
Three, I had to keep in mind that not all Christian denominations believe in everything the same way, so please keep that in mind as well.
Four, I thought that Maya was a bad influence on him considering his religion and that she should have been more open-minded and tried to understand what religion means to him–even if she didn't agree with it or understand it.
Five, I thought that Jesse's family didn't really exemplify what it means to be a Christian family. There's a lot of bad press when it comes to super strict religious families, but not all families, in fact, many, many families aren't like that. I wished that Kenneally could have portrayed that. But like I said, not all Christians believe in the same things.
Aside from religion and characters, plot, character-development and world-building was really well done. I enjoyed the music segments of JESSE'S GIRL and there was just enough so that I wasn't overwhelmed. Writing is completely Kenneally, and every part of this story is perfectly plotted.
Overall, I couldn't agree with certain parts of this book, but if you understand the above, especially about religion if you're sensitive to that, then I would definitely recommend this book. I loved Jesse and Maya and this was another amazing novel under Kenneally's belt. 4 stars.
pg count for the paperback: 304
Series: Hundred Oaks