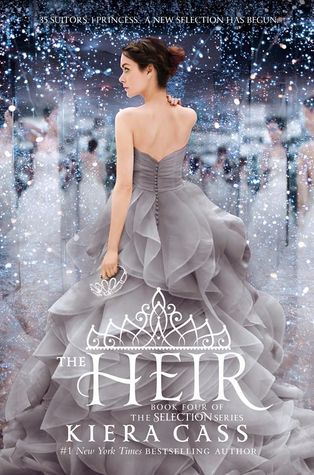 Princess Eadlyn has grown up hearing endless stories about how her mother and father met. Twenty years ago, America Singer entered the Selection and won the heart of Prince Maxon—and they lived happily ever after. Eadlyn has always found their fairy-tale story romantic, but she has no interest in trying to repeat it. If it were up to her, she'd put off marriage for as long as possible.

But a princess's life is never entirely her own, and Eadlyn can't escape her very own Selection—no matter how fervently she protests.

Eadlyn doesn't expect her story to end in romance. But as the competition begins, one entry may just capture Eadlyn's heart, showing her all the possibilities that lie in front of her . . . and proving that finding her own happily ever after isn't as impossible as she's always thought.
Description taken from Goodreads.
---
Right after reading this book, I really wanted to dislike it. Mainly because of Eadlyn. All I'm saying is, the girl needs to get off her high horse, and I felt like that from the very beginning of the novel. Eadlyn is spoiled, and doesn't know what she's got. Part of what I loved so much about America was her humility, her desire to do things for her family, and then… Eadlyn comes along. Out of two perfectly wonderful people.
The only reason I kept on reading was because Cass acknowledges the way she made Eadlyn, and I know that Eadlyn is this way for certain reasons. Certain believable reasons. So I continued on, and I found things to like even though Eadlyn doesn't change over the course of this novel.
Eadlyn may be spoiled and she may be a little shallow, but she's a leader. She wants to be a good ruler for her people. She looks up to her father. She shows pieces of herself that are kind, compassionate, wonderful. In other words, she's flawed, and it almost made me not to want to get to know her, but I'm glad I did. Also, she loves her family just like America does. Just not in the same way.
And speaking of America:
We get to see plenty of America and Maxon… as adults. I never thought I would get to enjoy a YA couple like this so much. Sure, I always envisioned my OTPs together forever. For example, the originals, never in a million years would I actually envision Percy and Annabeth with other people. It just doesn't happen. Currently, I'm in a bit of a predicament as I say this, but Griff and Wick are meant to be together.
I wouldn't say America and Maxon are one of my OTPs, but I do really enjoy them together and I feel like this book is a way of showing that life goes on. Often times in YA novels, it's easy to get caught up in the love triangle and the heat of the moment and everything that's going on. I think that with THE HEIR, readers are able to see that things happen, they just do, and life continues going on.
It's that simple.
And I was pretty happy with the results I saw. I saw people who have moved past their childhood, and come to live relatively happy lives as adults. No matter what happened then, "General Leger" and Maxon are good friends. America still knows General Leger, and even if their children don't understand it, the children of the people from THE SELECTION see their parents and the bond they share.
I thought that this was really important as a lesson, and it was great to see. I loved the old characters coming back and  yes, many scenes from THE SELECTION are referenced, but you don't need to have read the other books in order to understand this one.
All in all, this is a character-driven plot line, and I really enjoyed that. It employed real-world problems to show how the caste system breaking down wasn't all a good thing, and even though it was a pretty good thing, it didn't come without problems.
This story is about Eadlyn in particular. The people around her see her for what she is, spoiled but actually kind of wonderful at times, and I LOVED that. Greatly appreciated. I think that Eadlyn will change in the future, and I'm looking forward to seeing it. Yes, I really wanted to give up on this book many times, but the way that the characters develop, the old characters coming back and the many lessons scattered throughout this story changed my mind about it.
I would recommend this story to anyone considering reading Kiera's books, but I am a traditionalist and would recommend reading THE SELECTION stories first before this unless the idea really doesn't appeal to you. Also great for Kiera's fanbase. It's still her writing, her characters, her voice, and I've come to love it. No, it wasn't perfect, but it was the great start to more great novels from Cass. 3 stars.
pg count for the hardback: 368
Series:  The Selection #4