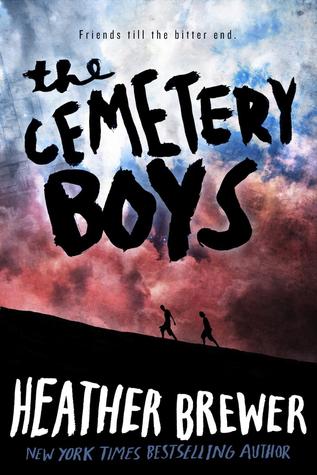 When Stephen is forced to move back to the nowhere town where his father grew up, he's already sure he's not going to like it. Spencer, Michigan, is like a town straight out of a Hitchcock movie, with old-fashioned people who see things only in black-and-white. But things start looking up when Stephen meets the mysterious twins Cara and Devon. They're total punks–hardly the kind of people Stephen's dad wants him hanging out with–but they're a breath of fresh air in this backward town. The only problem is, Cara and Devon don't always get along, and as Stephen forms a friendship with the charismatic Devon and something more with the troubled Cara, he starts to feel like he's getting caught in the middle of a conflict he doesn't fully understand. And as Devon's group of friends, who hang out in a cemetery they call The Playground, get up to increasingly reckless activities to pass the summer days, Stephen worries he may be in over his head.

Stephen's fears prove well-founded when he learns of Spencer's dark past. It seems the poor factory town has a history of "bad times," and many of the town's oldest residents attribute the bad times to creatures right out of an urban legend. The legend goes that the only way the town will prosper again is if someone makes a sacrifice to these nightmarish creatures. And while Stephen isn't one to believe in old stories, it seems Devon and his gang might put a lot of faith in them. Maybe even enough to kill for them.

Now, Stephen has to decide what he believes, where his allegiances lie, and who will really be his friend in the end.
Description taken from Goodreads.
---
So, when I dove into this novel, I was expecting some sort of cool The Graveyard Book/VLADIMIR TOD mashup. Maybe considerable for middle school, maybe not. Well, two things. This is not THE GRAVEYARD BOOK meets VT. Most of the time, I didn't know how or why or where. There were a lot of whattttttts.
The story starts out with Stephen, the typical moody teenager. I liked how real he was, but he was a little… too real, in a sense. When he wasn't being a pushover, he was complaining about something. Then he meets a person who's more than a little crazy, and his first notion is to make friends with him.
In terms of horror, I feel like this book is made to scare smaller kids. It's about as chilling as the YA book SHUTTER by Courtney Alameda or even 3:59 by Gretchen McNeil. There are some parts that get kinda creepy, but I recently wanted more from this novel, mostly because I was expecting horror and I got more of a paranormal-creepy feel.
After I was introduced to the world and the ideas and the old legends behind the town, that's when the real O_O started.
I had absolutely no idea what was going on with the characters, or why certain things were happening, or the motivations behind certain character actions. I really wanted more in that aspect. Things were talked about, but nothing was really fleshed out. Stephen never really ever got past being a moody teenager, and that about sums up the one-trait mentality behind all the characters.
The ending was where THE CEMETERY BOYS peaked for me. I really enjoyed it, but it also maintained its ambiguous, beating-around-the-bush writing style. It was unclear why a lot of plot elements happened, but there were some awesome twists. I wasn't expecting certain things to happen at all. This was the moment where I felt like the story was really getting somewhere.
All in all, I wouldn't recommend this book. It was a little too out-there for me. I would rather recommend Courtney Alameda's debut (SHUTTER), Neil Gaiman's THE GRAVEYARD BOOK, Kendare Blake's ANNA novels, Maggie Stiefvater's books (for the paranormal aspect) or Heather Brewer's other books. 1.5 stars.
pg count for the hardback: 288