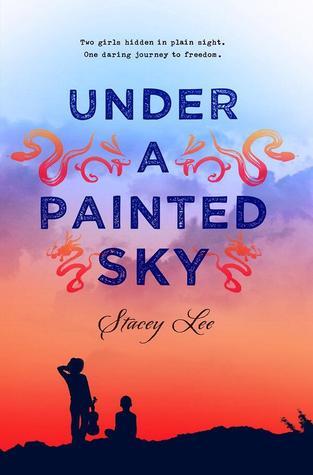 Missouri, 1849: Samantha dreams of moving back to New York to be a professional musician—not an easy thing if you're a girl, and harder still if you're Chinese. But a tragic accident dashes any hopes of fulfilling her dream, and instead, leaves her fearing for her life. With the help of a runaway slave named Annamae, Samantha flees town for the unknown frontier. But life on the Oregon Trail is unsafe for two girls, so they disguise themselves as Sammy and Andy, two boys headed for the California gold rush. Sammy and Andy forge a powerful bond as they each search for a link to their past, and struggle to avoid any unwanted attention. But when they cross paths with a band of cowboys, the light-hearted troupe turn out to be unexpected allies. With the law closing in on them and new setbacks coming each day, the girls quickly learn that there are not many places to hide on the open trail.

This beautifully written debut is an exciting adventure and heart-wrenching survival tale. But above all else, it's a story about perseverance and trust that will restore your faith in the power of friendship.
Description taken from Goodreads.
---
I only read this book because it's diverse lit.
Upon first glance, I thought one of two things would happen:
This is the type of critically acclaimed but not actually entertaining to the average person kind of book.
This is the "diverse lit" where the main character or supporting cast is/are not the majority ethnicity, and that's about as far as it goes.
Neither of these things happened, and that is the true strength of UNDER A PAINTED SKY. This book surprised me at every turn, but what I loved most was the accessibility of this historical fiction. Lee does a fantastic job of setting up the world-building of this novel and setting up her supporting cast.
The pacing is really well done, for the most part. I did think that within UPS, the beginning was what lacked the most. I thought that Sammy's thoughts were more contrived than real, like something she should be thinking rather than what she was really thinking. However, everything really gets going around the middle. Plot-line flows really well and it's easy to get lost in Annamae and Sammy's story.
The best part of this story really is Annamae and Sammy's relationship. It was almost a tad overdone for me, but all the crucial elements of a great literary friendship were there. I really enjoyed getting to know the two of them and watched them grow together. They're survivors, and I ended up loving the both of them.
All in all, I loved this story. It wasn't the fastest, but it was way more than I thought that it could be. It's well-written and entirely poignant and lovable without being too much. This is a great diverse read. 3.5 stars.
pg count for the hardback: 384