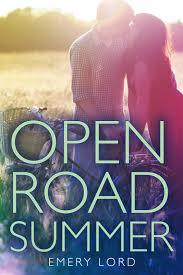 After breaking up with her bad-news boyfriend, Reagan O'Neill is ready to leave her rebellious ways behind. . . and her best friend, country superstar Lilah Montgomery, is nursing a broken heart of her own.

Fortunately, Lilah's 24-city tour is about to kick off, offering a perfect opportunity for a girls-only summer of break-up ballads and healing hearts. But when Matt Finch joins the tour as its opening act, his boy-next-door charm proves difficult for Reagan to resist, despite her vow to live a drama-free existence.

This summer, Reagan and Lilah will navigate the ups and downs of fame and friendship as they come to see that giving your heart to the right person is always a risk worth taking.

A fresh new voice in contemporary romance, Emery Lord's gorgeous writing hits all the right notes.
Description taken from Goodreads.
---
SO MANY THINGS.
This book though. I was recommended this book by a great blogger friend of mine, but I wasn't quite sure I would enjoy it. Chick-lit is very 50/50 for me; there's a chance I'll enjoy it, but there's also a chance that I won't. Nevertheless, I dove into OPEN ROAD SUMMER and I am so glad that I did.
The characters in this book. My gosh. I'm not saying that I completely agree with Reagan's personality. She's opinionated and she's judgmental, but I still loved getting to know her. Throughout this book, Reagan tries to change. She's still opinionated, but who isn't? She realizes that she's made some serious mistakes, but she seriously tries to turn over a new leaf, and that's more than a lot of other people do.
Then there's Matt Finch and Dee (Lilah). They're the best support network that Reagan could possibly have. I liked that the friendship between Dee and Reagan was so strong; I thought that their friendship went through a few ups and downs, but ultimately they're there for each other.
A lot of stories about musicians don't show the bad parts of it or focus only on the good parts, but Emery Lord does a great job of displaying the ups and downs to Dee's life. I felt like I knew Dee better because of her friendship with Reagan and the way she dealt with her everyday life. Because of the character-driven plot, Dee was more than just the happy, bright, supportive musician. I really liked the way that Lord developed the personalities within OPEN ROAD SUMMER.
One personality that was a little disappointing was Matt Finch. He was hyped up to be really cool and sweet and good-looking and yeah, sure, I get all those things, but I didn't really know him outside his relationship with Reagan. For the most part, he has two traits in ORS: happy to the point of being flippant and upset to the point of being kind of ridiculous. I did think that Matt's relationship with Reagan happened pretty quickly and I didn't love the way his personality was portrayed, but I did love how sweet his romance with Reagan was. All in all, Matt's a great guy.
In terms of plot, there's just enough in OPEN ROAD SUMMER. The story didn't feel overwhelming and it left me wanting just a little bit more (perfect feeling for the end of a book). Pacing is great; unlike a lot of other contemps, I was never bored with the plot and I was always up for more reading.
All in all, I would definitely recommend this book and shoutout to Jess @ Fly to Fiction for recommending this to me! I had so much fun with this story and I would say it's a chick lit that stands out from the crowd. There were lots of great details that really built upon the story and crafted the world within my mind. Great story with very lovable characters. 4 stars.
pg count for the hardback: 352