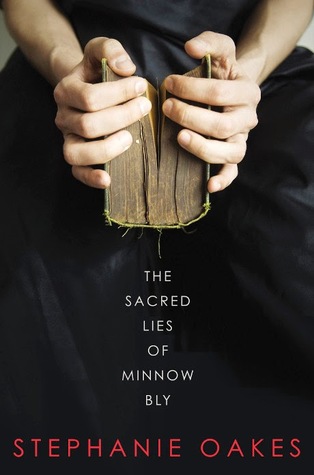 With a harrowing poetic voice, this contemporary page-turner is perfect for fans of Laurie Halse Anderson's Speak, Julie Berry's All The Truth That's in Me, and the works of Ellen Hopkins.

The Kevinian cult has taken everything from seventeen-year-old Minnow: twelve years of her life, her family, her ability to trust.

And when she rebelled, they took away her hands, too.

Now their Prophet has been murdered and their camp set aflame, and it's clear that Minnow knows something—but she's not talking. As she languishes in juvenile detention, she struggles to un-learn everything she has been taught to believe, adjusting to a life behind bars and recounting the events that led up to her incarceration. But when an FBI detective approaches her about making a deal, Minnow sees she can have the freedom she always dreamed of—if she's willing to part with the terrible secrets of her past.

The Sacred Lies of Minnow Bly is a hard-hitting and hopeful story about the dangers of blind faith—and the power of having faith in oneself.
Description taken from Goodreads.
---
I don't know exactly what I wanted when I opened up THE SACRED LIES OF MINNOW BLY, but if I had to guess I would say that I wanted another GATED.
To date, Amy Christine Parker's GATED is my favorite novel about cults and the nature of them. The strongest parts of GATED for me were related to the cult leader within the story, a man known as Pioneer. Lyla, the main character, goes from having unwavering faith in Pioneer to questioning everything she knows about him. This is a rather cliché sort of development, one that has been rerun and rerun in recent fiction so many times that it's become almost unbearable, but Parker's execution of this growth in GATED was spot on.
There was almost none of that in this story–good growth, bad growth or anything in between.
Throughout this story, I had two real problems that made me disappointed. Everything else was fine. I liked Minnow, even though she is a little drab. I thought that the parts where she's in prison trying to make sense of her new environment were very well done; I actually loved those parts. Minnow getting to know other people was great, and I thought that her interactions were realistic. Despite these things, I couldn't love this story.
My first problem was plot and pacing. Sure, there are some unique elements to this book. I liked a lot of the themes that Oakes brought in. Where things fell through was overall originality. I kept on waiting for some huge things to happen, for reveals to be made, to be shocked beyond all belief. Never happened. As far as cult stories go, THE SACRED LIES OF MINNOW BLY is pretty trite. It's a story that's been told before in almost the exact same fashion, except in TSLMB the main character doesn't have hands. While that twist was interesting, it wasn't enough to keep me from feeling bored throughout the book.
My second problem stemmed from the writing.
A lot of people have said in their reviews of this book that the writing is beautiful and quotable, and they're not wrong. There are lots of great little snippets in here. What I didn't love about the writing was that everything felt like a paper town with paper people, to reference John Green.
Nothing felt real to me. I didn't ever connect with Minnow, as much as I liked certain parts of her personality. She doesn't go through much change as a character. I felt some of her sorrow, her emotions, her happiness, at fleeting, intense moments, but I never got to see her as something more than a name on a page. Much of what makes her her in TSLMB is skipped over, like the reason why she even wants to rebel so badly in the first place. It's explained, but never truly gone into detail.
In the end, I wanted more from TSLMB. While I do agree that is well-written in many aspects, I also think that there are books that do a better job of the whole cult scheme of things. If you're looking for a novel about cults and what makes them so perverse, I would go with Parker's GATED. If you're looking for a dramatic novel about a girl who lived in a cult (and the effects of her time there), then I would try THE SACRED LIES OF MINNOW BLY. 2 stars.
pg count for the hardback: 200