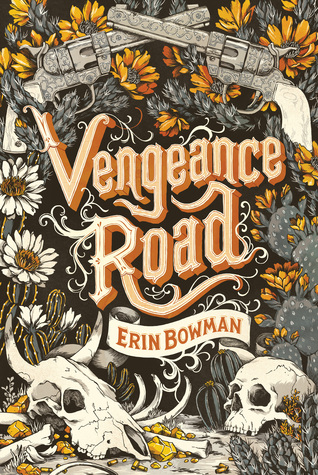 When Kate Thompson's father is killed by the notorious Rose Riders for a mysterious journal that reveals the secret location of a gold mine, the eighteen-year-old disguises herself as a boy and takes to the gritty plains looking for answers and justice. What she finds are devious strangers, dust storms, and a pair of brothers who refuse to quit riding in her shadow. But as Kate gets closer to the secrets about her family, she gets closer to the truth about herself and must decide if there's room for love in a heart so full of hate.

In the spirit of True Grit, the cutthroat days of the Wild West come to life for a new generation.
Description taken from Goodreads. I received an advance copy of this book, to be published September 1st, 2015, in exchange for an honest review. These opinions are my own.
---
There's something that happens in YA where there's a gritty theme, and then there's a YA romance version of that theme.
For example, there's YA romance deserted island and then there's YA deserted island. There's YA romance mental health and then there's YA mental health. There's YA romance Westerns and YA Westerns.
This is a true-blood YA Western, and I didn't expect anything less of Erin Bowman. She writes masterfully, making this world come to life. I do admit that I'm not a huge Western fan. I'm not a fan of Westerns just naturally, but I still loved and appreciated the world that she created within this story. VENGEANCE ROAD is one of those books that just manages to make the Wild Wild West seem interesting.
The main points of the book revolve around revenge and cowboys.
And I don't mean
Or
I mean
And it is fantastic.
Erin Bowman does a great job of making her characters come to life. I loved getting to know Kate in particular, and even though this is a setting I wouldn't usually be interested in, I thought that the plot was both entertaining and well-crafted. It was perfect plot-wise for a stand-alone. I did think the ending tied together a little awkwardly, but I was satisfied with the way things turned out.
In terms of romance, if you want a super-intense romance, this is not your read. The romance is a slow-burn, definitely a sub-plot, and I loved it. The romance develops very naturally and doesn't feel forced at all. Even though this is a little bit of a love triangle, I thought that Bowman worked that plotpoint incredibly well.
What brought this book down for me was the pacing. It is a revenge story, and I loved the revenge theme to it, but the overall feel of the book is pretty slow. While I did wish this book could've passed a lot faster, it's a great, really well-written read that I would recommend to any YA buff, historical fiction fan or Western fan. 4 stars.
pg count for the hardback: 336