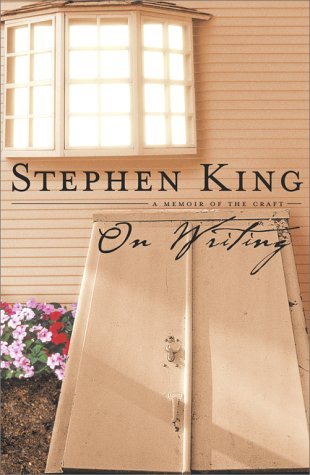 In 1999, Stephen King began to write about his craft — and his life. By midyear, a widely reported accident jeopardized the survival of both. And in his months of recovery, the link between writing and living became more crucial than ever.

Rarely has a book on writing been so clear, so useful, and so revealing. On Writing begins with a mesmerizing account of King's childhood and his uncannily early focus on writing to tell a story. A series of vivid memories from adolescence, college, and the struggling years that led up to his first novel, Carrie, will afford readers a fresh and often very funny perspective on the formation of a writer. King next turns to the basic tools of his trade — how to sharpen and multiply them through use, and how the writer must always have them close at hand. He takes the reader through crucial aspects of the writer's art and life, offering practical and inspiring advice on everything from plot and character development to work habits and rejection.

Serialized in the New Yorker to vivid acclaim, On Writing culminates with a profoundly moving account of how King's overwhelming need to write spurred him toward recovery, and brought him back to his life.

Brilliantly structured, friendly and inspiring, On Writing will empower — and entertain — everyone who reads it.
Description taken from Goodreads.
---
To write well, you should first read. A lot. At least, that is the advice that I most commonly hear when I ask authors for writing advice. But what to read when looking for real, true, honest advice about writing?
ON WRITING by Stephen King.
I finally read it, and I'm here to tell you that it is worth the read. Never before have I read a book that so clearly and perfectly describes what it is to write and how to write. There were moments where I was blown away by the author's analogies, metaphors and anecdotes. Not only is this a book about writing, but it's also incredibly entertaining and largely about life in general.
Here are ten of the most enlightening things that I gathered from ON WRITING:
1. Optimism is a perfectly legitimate response to failure.
Page 40: When you're still too young to shave, optimism is a perfectly legitimate response to failure.
2. Starting a book without a complete plot-line is perfectly reasonable.
Page 165: I am, after all, not just the novel's creator but its first reader. And if I'm not able to guess with any accuracy how the damned thing is going to turn out, even with my inside knowledge of coming events, I can be pretty sure of keeping the reader in a state of page-turning anxiety.
3. Omit needless words/rewriting is key.
Page 57: "When you write a story, you're telling yourself the story," he said. "When you rewrite, your main job is taking out all the things that are not the story."

Gould said something else that was interesting on the day I turned in my first two pieces: write with the door close, rewrite with the door open. Your stuff starts out being just for you, in other words, but then it goes out. Once you know what the story is and get it right–as right as you can, anyway–it belongs to anyone who wants to read it. Or criticize it.
4. Writing is a tool, a support system, nothing more or less.
Page 101: It starts with this: put your desk in the corner, and every time you sit down to write, remind yourself why it isn't in the middle of the room. Life isn't a support system for art. It's the other way around.
(This passage can't do justice to chapter 38 of ON WRITING. One of my favorite chapters in the entire book, and it's only two pages (???)).
5. Good description is based on balance.
Page 176: The first four things which come to my mind when I think of Palm Too are: (a) the darkness of the bar and the contrasting brightness of the backbar mirror, which catches and reflects light from the street; (b) the sawdust on the floor; (c) the funky cartoon caricatures on the walls; (d) the smells of cooking steak and fish.

If I think longer I can come up with more stuff (what I don't remember I'll make up–during that visualization process, fact and fiction become entwined), but there's no need for more. This isn't the Taj Mahal we're visiting, after all, and I don't want to see you the place. It's also important to remember it's about the setting, anyway–it's about the story, and it's always the story.
6. The road to hell is paved with adverbs.
Page 124: The adverb is not your friend… With adverbs, the writer usually tells us he or she is afraid he/she isn't expressing himself/herself clearly, that he or she is not getting the point of the picture across.

Page 128: All I ask is that you do as well as you can, and remember that, while to write adverbs is human, to write he said or she said is divine.
7. Don't change your vocabulary just because you want to use longer words.
Page 117: Put your vocabulary on the top shelf of your toolbox, and don't make any conscious effort to improve it. (You'll be doing that as you read, of course… but that comes later.) One of the really bad things you can do with your writing is to dress up the vocabulary, looking for long words because you're maybe a little bit ashamed of your small ones. This is like dressing up a household pet in evening clothes. The pet is embarrassed and the person who committed this act of premeditated cuteness should be even more embarrassed.
8. Write what you want to write, whatever it is, as long as you're honest.
Page 158: Now comes the big question: What are you going to write about. And the equally big answer: Anything you damn well want. Anything at all… as long as you tell the truth.

Page 162: John Grisham, of course, knows lawyers. What you know makes you unique in some other way. Be brave. Map the enemy's positions, come back, tell us all you know. And remember that plumbers in space is not such a bad setup for a story.
9. There is a great disparity between good dialogue writers and bad dialogue writers, and good dialogue writers are always honest.
Page 185: As with all other aspects of fiction, the key to writing good dialogue is honesty. And if you are honest about what is coming out of your character's mouths, you'll find that you've let yourself in for a fair amount of criticism.

Page 189: Everything I've said about dialogue applies to building characters in fiction. The job boils down to two things: paying attention to how the real people around you behave and then telling the truth about what you see.
10. Don't focus so much on backstory.
Page 227: The most important things to remember about back story are that (a) everyone has a history and (b) most of it isn't very interesting. Stick to the parts that are, and don't get carried away with the rest. Long life stories are best received in bars, and then an hour or so before closing time, and if you are buying.
These ten things can't do justice to this book, which is why ON WRITING is a book and not a blog post. There are so many things that I can't begin to put down in this post. My only true advice for you? Read this book; learn from it. If you're looking for advice on revising and who should revise your novel, then chapter 11 and 12 of the On Writing segment (starting page 208) is one of the entire chapters that I wish I could've fit into this post.
If you're a writer (or even if you're not), I would recommend reading ON WRITING. The story is entertaining as well as insightful about life and writing. You don't have to have read Stephen King's works in order to appreciate this story, but those who have read his writing will enjoy some of the backstory and history he provides. I loved this book and it's a story that I will definitely be rereading. If you wanted it might be helpful to hiring online writers so you can converse with them about your writing development. Possibly even consider order essay online for even more writing reference. 4.8 stars.*
*Great possibility that this book will become one of my five star picks.