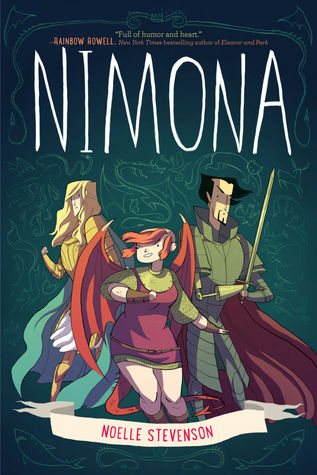 The graphic novel debut from rising star Noelle Stevenson, based on her beloved and critically acclaimed web comic, which Slate awarded its Cartoonist Studio Prize, calling it "a deadpan epic."

Nemeses! Dragons! Science! Symbolism! All these and more await in this brilliantly subversive, sharply irreverent epic from Noelle Stevenson. Featuring an exclusive epilogue not seen in the web comic, along with bonus conceptual sketches and revised pages throughout, this gorgeous full-color graphic novel is perfect for the legions of fans of the web comic and is sure to win Noelle many new ones.

Nimona is an impulsive young shapeshifter with a knack for villainy. Lord Ballister Blackheart is a villain with a vendetta. As sidekick and supervillain, Nimona and Lord Blackheart are about to wreak some serious havoc. Their mission: prove to the kingdom that Sir Ambrosius Goldenloin and his buddies at the Institution of Law Enforcement and Heroics aren't the heroes everyone thinks they are.

But as small acts of mischief escalate into a vicious battle, Lord Blackheart realizes that Nimona's powers are as murky and mysterious as her past. And her unpredictable wild side might be more dangerous than he is willing to admit.
Description taken from Goodreads.
---
There's no doubting that NIMONA is a great story. The dialogue is dead-pan and hilarious, the characters are easy to fall in love and the plot works together seamlessly, especially around the middle. Even though the writing feels forced in the beginning, the book quickly falls into the swing of things. I fell in love with the story, the ending, the adventure of it all.
Needless to say, NIMONA is an example of a great graphic novel that brilliantly weaves together art and story to make something more than the sum of its parts. The way that this story really blew me away was reminiscent of Kazu Kibuishi and Gene Luen Yang, two of my favorite graphic novelists of the modern day.
Where things didn't work with me in NIMONA was the design aspect of this story. Sure, the drawings are a little crude. You get used to it. It becomes a part of the story itself. I wasn't too worried about, and it became a non-issue. For those detail-seekers in comics though, this is not your book. NIMONA is very big-picture based in terms of drawing. That's not a bad thing, especially with so much plot, but I did find myself wishing for more at certain points in the book.
What really struck me was the font. I know this is pretty petty, but reading a kind of novel where the conventional ideas about using serif don't really apply isn't always a good thing. There have been some novels where the font just fits, especially in graphics novels. I felt this way about Calvin & Hobbes, Anya's Ghost and American Born Chinese, just to name a few (you can find these mentioned in my graphic novels/comics section).
In NIMONA, the font is irritating, almost grating. It detracts from the story and pulls the reader out of the trance that the rest of the book facilitates. I got really close to not reading the entirety of this novel because I was sick of reading the font. For graphic novels especially, design and formatting plays a huge role.
In terms of actual story, the only thing I can note is the ending. Things tie together really well, almost too well, but I was okay with that because I loved the way that this book ended.
All in all, I really enjoyed NIMONA. I so, so wish that it could've been in a different font and some of the design elements could be changed, but this is an incredibly entertaining, unique and funny hero read. Great for 10/11+, no mature themes. 4 stars.
pg count for the hardback: 272