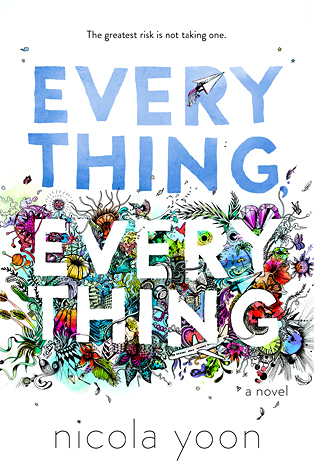 This innovative, heartfelt debut novel tells the story of a girl who's literally allergic to the outside world. When a new family moves in next door, she begins a complicated romance that challenges everything she's ever known. The narrative unfolds via vignettes, diary entries, texts, charts, lists, illustrations, and more.

My disease is as rare as it is famous. Basically, I'm allergic to the world. I don't leave my house, have not left my house in seventeen years. The only people I ever see are my mom and my nurse, Carla.

But then one day, a moving truck arrives next door. I look out my window, and I see him. He's tall, lean and wearing all black—black T-shirt, black jeans, black sneakers, and a black knit cap that covers his hair completely. He catches me looking and stares at me. I stare right back. His name is Olly.

Maybe we can't predict the future, but we can predict some things. For example, I am certainly going to fall in love with Olly. It's almost certainly going to be a disaster.
Description taken from Goodreads. I received an advance copy of this novel, to be published September 1st, 2015, from the publisher in exchange for an honest review. These opinions are my own.
---
I went into EVERYTHING, EVERYTHING with high expectations from all the hype, and right now I'm not entirely sure how to feel about it. While EVERYTHING, EVERYTHING is everything it's hyped to be: cute, unique and well-written, there were things that I didn't expect. Insta-love, for example, and the main character having a stroke of stupid.
See, the romance in EVERYTHING, EVERYTHING is great. It's all there. I loved the dialogue between the two main characters and their relationship. Sure, it was plenty rushed, but I could understand that considering the circumstances between them. I thought that the parental situation and Carla was well handled as well. There are obstacles to their relationship, and that was exactly the point.
Honestly, the rushed part of the romance wasn't really a problem for me. Sure, I couldn't ignore it, but the romance was well-enough thought out that I was okay with it, and their great moments as a couple made up for it. Olly and Madeline make each other better, stronger even in the midst of both of their problems, and that was great to see.
What I didn't love so much was how sloppy everything, everything, felt towards the last half of the novel. This is where I'm probably going to go a little spoilerish, so I'll keep it short. Basically, Madeline does some very incredibly stupid things where she puts herself at risk and she throws all notion of people who care about her to the wind. Instead of doing something well-planned out, caution goes right out the window. I understand what this was meant to do, the freedom it was meant to bring Madeline, but I couldn't bring myself to accept what she was doing.
Things get very, very ridiculous to the point where I didn't even know what was going on or how it was possibly happening. Disbelief is the right word.
Also, for those of you interested in this novel because of SCID, Madeline's disease, that's exactly the extent of it. Madeline has SCID, which makes her allergic to the world, and she lives in a bubble house. That's the extent of what you get to know about SCID. I loved the fact that there was no horrible info-dumping in the case of EVERYTHING, EVERYTHING, but I really wanted to know more about this disease. And by the way, Madeline's mom diagnosed her with the disease.
…
So… there's a reason why doctors are discouraged from operating or making serious medical decisions for family members. In some practices and situations, it's even illegal. The fact that Madeline has been living like she has for almost a decade because of something her mom diagnosed is a little close to unbelievable for me.
First of all, it shows a lack of mindfulness on her mother's part because she didn't get a second or third opinion on something that would drastically change the course of not just her child's life, but her own life.
Second of all, she apparently didn't take parent bias into account at ALL. It's a thing, especially with self-diagnosing and family member diagnosing. In the terms of students, it's called Medical Student's Disease. According to McGill University, 70% of the medical students studied claimed that they had the symptoms of the illnesses they had studied in detail when they really didn't have anything wrong with them. 
At the University of Southern California School of Medicine, 80% of the medical student seniors that were interviewed said that they had given themselves incorrect diagnoses.
All I'm saying is, personally, I can't realistically believe that Madeline's mom diagnosed her child with this and Madeline got all the care, medicine and equipment she needed for this diagnosis without another doctor stepping in and offering a second opinion. Then there's the nurses. I can't believe that her NURSE didn't say anything to any other doctor about this condition that's crippling Madeline's ability to live a full life.
Overall, EVERYTHING, EVERYTHING was okay. It was an incredibly cute and funny little story, and I loved the premise, but I couldn't handle the execution of it. The writing was great, the plot was all there, but there were several details I just couldn't deal with from plot and world-building inconsistencies to medical details. It is a book I would recommend, but only to people that are okay with realizing something's up every once in awhile. 1.5 stars.
pg count for the hardback: 320