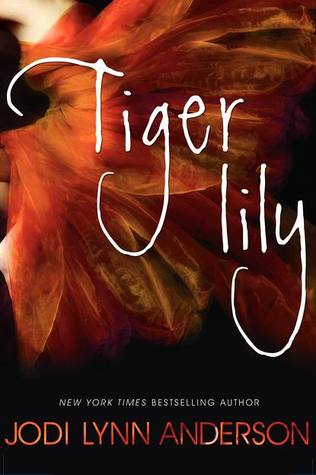 Before Peter Pan belonged to Wendy, he belonged to the girl with the crow feather in her hair…

Fifteen-year-old Tiger Lily doesn't believe in love stories or happy endings. Then she meets the alluring teenage Peter Pan in the forbidden woods of Neverland and immediately falls under his spell.

Peter is unlike anyone she's ever known. Impetuous and brave, he both scares and enthralls her. As the leader of the Lost Boys, the most fearsome of Neverland's inhabitants, Peter is an unthinkable match for Tiger Lily. Soon, she is risking everything—her family, her future—to be with him. When she is faced with marriage to a terrible man in her own tribe, she must choose between the life she's always known and running away to an uncertain future with Peter.

With enemies threatening to tear them apart, the lovers seem doomed. But it's the arrival of Wendy Darling, an English girl who's everything Tiger Lily is not, that leads Tiger Lily to discover that the most dangerous enemies can live inside even the most loyal and loving heart.

From the New York Times bestselling author of Peaches comes a magical and bewitching story of the romance between a fearless heroine and the boy who wouldn't grow up.
Description taken from Goodreads.
---
Throughout the years, I've amassed a collection of sorts, a list of people who have recommended TIGER LILY to me. Even though some of their names and faces have left me, their recommendations have not. I've tried to read TIGER LILY before, and always ended up not finishing it or leaving it to start a new read. This was not ever the fault of the book, but simply circumstance.
If you're a reader, and even if you're not, read TIGER LILY.
The statement may seem bland, but it's the only way to start this review that I know how. Before, I never paid much attention to Peter Pan. It's about a boy who never grows up. The girl leaves him in the end. No big deal. Maybe a little sad, but so what? Why should I care?
Compared to TIGER LILY, the Disney Peter Pan is a story with a cardboard cut-out cast of characters.
TIGER LILY is so incredibly deep and poignant and insightful about the Peter Pan story that I can't even begin to describe it. There is so much to be said about this book, and not enough words to say it. The characters are people, and that's the only way I can describe them. They're deeper than everyday people. They're the long-lost friends, the ones you've known forever, finally telling you the story they've always skirted around.
This is that story, and it is heartbreaking. It is heartbreaking and the tiniest bit hopeful, but not happy. I put a lot of value on the way an ending is executed and ultimately, where the people I've come to know and care about are left. Anderson managed to find the perfect ending for this story, putting a cap on this read without making it seem like the end.
All in all, this was a great read. Pacing was spot on and I never had to think about the fact that I was turning the page. Plot moves together fluidly. There are some books that, as a I writer, I wish that I had written–and TIGER LILY is one of them. This is one read I will definitely be buying, rereading and recommending. Beautiful story, but you have to be prepared for the book hangover. 4.8 stars*.
*Super close to a 5 star pick. As of right now, the only thing I'm waiting out on is time.
pg count for the hardback: 292