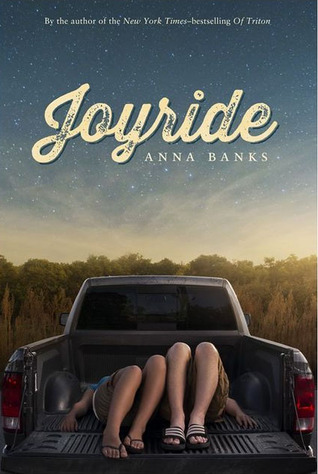 A popular guy and a shy girl with a secret become unlikely accomplices for midnight pranking, and are soon in over their heads—with the law and with each other—in this sparkling standalone from NYT-bestselling author Anna Banks.

It's been years since Carly Vega's parents were deported. She lives with her brother, studies hard, and works at a convenience store to contribute to getting her parents back from Mexico.

Arden Moss used to be the star quarterback at school. He dated popular blondes and had fun with his older sister, Amber. But now Amber's dead, and Arden blames his father, the town sheriff who wouldn't acknowledge Amber's mental illness. Arden refuses to fulfill whatever his conservative father expects.

All Carly wants is to stay under the radar and do what her family expects. All Arden wants is to NOT do what his family expects. When their paths cross, they each realize they've been living according to others. Carly and Arden's journey toward their true hearts—and one another—is funny, romantic, and sometimes harsh.
Description taken from Goodreads.
---
I think a lot of how much a reader will enjoy JOYRIDE depends on what their stance on immigration is. For the sake of this review, I'll try to keep as much of my opinion out of the writing, but I will say that there are many things that I felt hold truth and many things that I felt hold absolutely no truth. There were moments of clarity and then there were moments where the prose sounds like someone who doesn't pay a whole lot of attention to an issue trying to talk about that issue.
Needless to say, to me, JOYRIDE didn't feel very well-researched.
The reason why I say that also has to do with JOYRIDE's depth. The characters are all there, the plot is a little fluffy and simple, but it's cute. Where things really fell short of my expectations was Carly. Not even Julio, her older brother, but Carly in particular stuck out to me. She's so cliché and here-and-there that I had trouble connecting to her character. She's pretty hypocritical, and even though she's portrayed a certain way, she really isn't that way.
I won't delve into Carly and Julio's relationship, their home life or their family problems, because I think you get the gist, but other than Carly, I ended up enjoying many of the other characters a lot.
Cletus, Arden's uncle, was a great guy in particular. I loved getting to know him and he was really fun to read about. Looking back, he wasn't very nuanced, but when I read him and when I reread him, I love his dialogue and personality. I also enjoyed Arden and his father. I thought that Arden's father and mother could have been fleshed out a lot more, but for the purposes of this story, it didn't really matter.
When it comes to romance and plot, this book is pretty fluffy. The ending is fluffy, the romance is instalove and everything in between is straight-up contemporary. There's pranking and raising money, and that's just about it. The whole immigration plot comes in to play a role, but overall, that part of the story left me with little to no real impression.
I would say that if you're reading this book for the whole immigration and diverse part of it all, I would skip this one and go on to other great diverse reads. A starting list can be found on the We Need Diverse Books website. If you're looking at this book because it looks like a good contemporary read with some pranking thrown in, I would warn you that this is instalove, but otherwise, this is a really fun read. 2 stars.
pg count for the hardback: 288