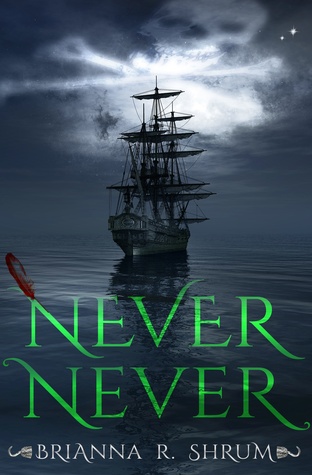 Title: Never Never

Author: Brianna Shrum

James Hook is a child who only wants to grow up.

When he meets Peter Pan, a boy who loves to pretend and is intent on never becoming a man, James decides he could try being a child—at least briefly. James joins Peter Pan on a holiday to Neverland, a place of adventure created by children's dreams, but Neverland is not for the faint of heart. Soon James finds himself longing for home, determined that he is destined to be a man. But Peter refuses to take him back, leaving James trapped in a world just beyond the one he loves. A world where children are to never grow up.

But grow up he does.

And thus begins the epic adventure of a Lost Boy and a Pirate.

This story isn't about Peter Pan; it's about the boy whose life he stole. It's about a man in a world that hates men. It's about the feared Captain James Hook and his passionate quest to kill the Pan, an impossible feat in a magical land where everyone loves Peter Pan.

Except one.
Description taken from Goodreads. I received an advance copy of this book, to be published September 22nd, 2015 via the publisher. These opinions are my own; all quotes should be checked against the final edition. 
---
This month's book is NEVER, NEVER by Brianna Shrum for the Sunday Street Team, and I'm so glad that I got the chance to read this book! It's a great twist on Hook's side of the story, and definitely one that I didn't see coming. Check out more about the Sunday Street Team at ReadLoveWrite28.com and five quotes that I loved from Never, Never below!
Five Quotes From Never Never That I Loved
Quote #1: Page 28
His jaw dropped and his eyes flew open. There, hundreds of feet below him, was a vast jungle, twinkling with life, dotted with little oases here and there. There was a sparkling blue lagoon and a sea, occupied with a large and wicked-looking pirate ship, one that from this distance, he could barely make out–but it gave him a faint tickling in his chest.

"Is it–is this, is this it?"

"Yes, James. This is it. This is Neverland."
Quote #2: Page 96
He fingers trailed down to the angry, swollen stripe across his throat, and he opened his eyes once again. It was a clean line; the sharp stroke of the dagger had seen to that. And he doubted heavily that it would become infected; Tiger Lily had seen to that. But he could feel the depth of it and knew that it would be a scar he would always bear. On the outside and in his very soul, a stain that would never be lifted. It was another defining moment in his life, like the murder of the pirate. The face of a Pan staring at him, desiring his blood, affected him in a way that no other murderer's face ever would. For somehow, in the darkest depths of him, as Peter was trying to murder him, a piece of James wanted to give him whatever it was that he wanted.
Quote #3: Page 120
"Well pirate, it seems you have something of mine." He smiled with his teeth.

"Yes, fairy, it certainly does."

Peter frowned. "Do not call me 'fairy,' for you know my name is Peter Pan."

Then do not call me 'pirate', for you know my name as well."

"Why would I ever learn your name, pirate?" he said, eyes bright, spinning in the air.

James's face darkened. "You know me, boy."

Peter crossed his legs and set his face on his hand for a minutes, lines in his forehead deeply creased. "No, pirate, I don't believe I do."
Quote #4: Page 148
"We kissed quite a bit after that, but I suppose we weren't very good at it. Anyway, eventually, I caught her in the schoolyard holding Edwin Booker's hand, and our committed love affair came to a very explosive end. Tragic, tragic."

He chuckled, remembering how he'd thought it the end of the world. But, the chuckle faded off quickly, for he realized then that he hadn't kissed anyone since. It wasn't the lack of kissing, really, that bothered him. It was the reason for it. There wasn't much opportunity in Neverland, was there?

"Where is this 'Susan' now?"

"Back home."

He said "home" with such longing in his voice, such pain, that it surprised even him.

Tiger Lily bit her lip and moved closer to him. "Where is home?"

"Not here," was all he said.
Quote #5: Page 178
Pan smiled devilishly and floated up and away from him, holding James's severed hand in his own. James paled and gasped for breath, yelling out with every bit of oxygen he had left. He was certain that the real pain hadn't yet set in, and nor the realization. He could not truly believe, even if he'd wanted to, that the hand in the child's fingers was his own.
That's only about halfway through the book! Be sure to check out NEVER NEVER when it releases to find out what happens with Hook and Peter Pan.
About the Author
Brianna Shrum lives in Colorado with her high-school-sweetheart turned husband and her two little boys. She's been writing since she could scrawl letters, and has worked with teens since she graduated out of teenager-hood, either in the writing classes she taught, or working with the youth group. Brianna digs all things YA, all things geeky, superhero-y, gamery, magical, and strange.
Her debut YA, Never Never, releases in September of this year. Her second YA, How to Make Out, releases in Fall 2016. She'd totally love to connect with you, so come say hi on her website or Twitter! 
Giveaway