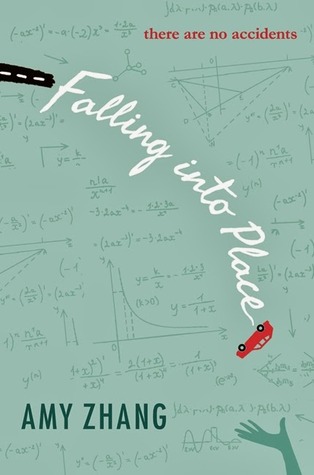 On the day Liz Emerson tries to die, they had reviewed Newton's laws of motion in physics class. Then, after school, she put them into practice by running her Mercedes off the road.

Why? Why did Liz Emerson decide that the world would be better off without her? Why did she give up? Vividly told by an unexpected and surprising narrator, this heartbreaking and nonlinear novel pieces together the short and devastating life of Meridian High's most popular junior girl. Mass, acceleration, momentum, force—Liz didn't understand it in physics, and even as her Mercedes hurtles toward the tree, she doesn't understand it now. How do we impact one another? How do our actions reverberate? What does it mean to be a friend? To love someone? To be a daughter? Or a mother? Is life truly more than cause and effect? Amy Zhang's haunting and universal story will appeal to fans of Lauren Oliver, Gayle Forman, and Jay Asher.
Description taken from Goodreads.
---
For a long time, I had absolutely no idea what to think about this book. It's too flowery and it's not. The main character is despicable, but she learns from her experiences, but she's still despicable. There were just so many "but" issues that I had to work out.
The first one was the writing. A lot of people love the flowery text in this, and for a flowery book, FALLING INTO PLACE isn't bad at all. There were many moments where I wasn't quite "OH, this is my life," or TFIOS moment! (y'all know what I'm talking about), but that were just life… Just the sadness and simplicity and beauty of everyday life. Zhang does a great job of outlining exactly everything that leads up to the pivot point of this book (Liz committing suicide).
However, before those moments, in the beginning, FALLING INTO PLACE's writing was almost too much. There were things I was trying to figure out and places I was trying to go, and I was sick of reading pages where entire passages beat around the bush for the sake of flowery writing.
The second was the structure. The issue here was very much like the issue with the writing. In the beginning, the structure (in a before/after) format made the writing issue worse. Later on, I really got why the structure had to be like this, I even thought it was a great decision for this novel, but in the beginning it was irritating and hard to read.
The third was Liz, the main character. She was the hardest to unravel, because I wanted to dislike her so much. I wanted to lower the rating of this entire book because of her, and I did a little bit, but not nearly as much as my initial reaction would have liked.
Liz is every mean girl, every why would you even do that, how could you even do that, you know x 2. She does some really horrible things over the course of this book. In the end, she doesn't really change. However, I really enjoyed the way that Zhang used the people around Liz, the people that she'd hurt and the people that Liz thought would hate her forever, to make this book more than just a simple, this-girl-sucks read.
The problems with Liz are huge. She's a jerk, but she's a jerk who comes to be forgiven to a certain extent by the people around her. And she's a still a person, a person with depression. I know that doesn't excuse anything, but she still deserves help and she still deserves sympathy. I'm not trying to justify her actions, but I am saying that Liz is more than the people she's hurt. Zhang does an amazing job of displaying this.
I wouldn't recommend this book straight off the bat. It won't be the right book for a lot of people. In fact, for most people, I would probably recommend THIRTEEN REASONS WHY by Jay Asher. But if you understand my reasoning in this review and why I'm rating FALLING INTO PLACE the way I am, then it may be the right read for you. 3 stars.