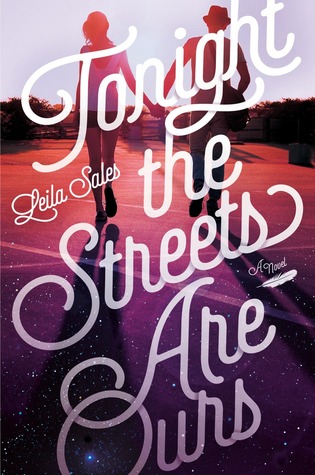 From the author of This Song Will Save Your Life comes a funny and relatable book about the hazards of falling for a person you haven't met yet.

Seventeen-year-old Arden Huntley is recklessly loyal. Taking care of her loved ones is what gives Arden purpose in her life and makes her feel like she matters. But she's tired of being loyal to people who don't appreciate her—including her needy best friend and her absent mom.

Arden finds comfort in a blog she stumbles upon called "Tonight the Streets Are Ours," the musings of a young New York City writer named Peter. When Peter is dumped by the girlfriend he blogs about, Arden decides to take a road trip to see him.

During one crazy night out in NYC filled with parties, dancing, and music—the type of night when anything can happen, and nearly everything does—Arden discovers that Peter isn't exactly who she thought he was. And maybe she isn't exactly who she thought she was, either.
Description taken from Goodreads. I received an advance copy of this book, to be published September 15th, 2015, from the publisher in exchange for an honest review. These opinions are my own. All quotes should be checked against the final edition.
---
Two prejudices against this book before I even started it.
In case you don't know, THIS SONG WILL SAVE YOUR LIFE by the same author as this book is one of my favorite books, and I was scared that TONIGHT THE STREETS ARE OURS wouldn't measure up.
I've found that I really am not a road-trip story type of person. I just don't, most of the time, believe that they are at all realistic (I mean, teenagers going across the country in a car?). And there's something else about them that bothers me, even though there are many road trips stories that have come highly recommended that I wanted to like.
In following up with these two prejudices:
No, this book doesn't measure up to TSWSYL. TSWSYL is just that good, despite its super long name. Still, there were many great things about TTSAO.
This is hardly a road trip story as it is a book about friends, relationships and personalities, as well as self-discovery.
So, just as number one followup says, this is not as good as TSWSYL, but perhaps that is just a testament to how much that book sticks with me, because TTSAO is a good read. If you're not one for slow contemporaries, TTSAO may not be for you. It's got a very slow beginning and the only thing that brought me through the narration style were the relatable comments right from the get go.
Arden had just never imagined that when she threw Lindsey a life jacket, she would be drowning herself.
Leila got the setting and the characters and their actions down perfectly. I identified with the characters so many times, and I felt like I was really a part of their lives, not just someone looking in from the outside. There were moments when I was completely empty and I had no idea how to feel (in a good way) to moments where I just…
All the feels.
This book really is written in true Leila Sales fashion, and I couldn't have asked for anything more than that. There were times when I had to laugh and cry with the characters, and the ending was spot-on for this kind of read. I thought that Arden grew a lot in this book, which was odd to see because the most apparent growth almost always happens with a not-so-nice girl who becomes an empathetic girl.
For any fan of Leila Sales, I would recommend this book. If you're a fan of contemporary and character growth, I would recommend this book. Well written stories? Go for it. The only thing I would watch for is the beginning; it's slow for the first fifty to sixty pages or so, and the narration takes a while to get used to. 4 stars.
pg count for the hardback: 342