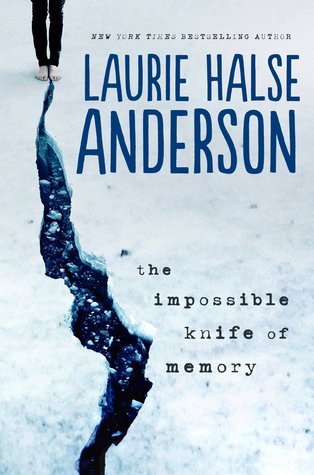 For the past five years, Hayley Kincain and her father, Andy, have been on the road, never staying long in one place as he struggles to escape the demons that have tortured him since his return from Iraq. Now they are back in the town where he grew up so Hayley can attend school. Perhaps, for the first time, Hayley can have a normal life, put aside her own painful memories, even have a relationship with Finn, the hot guy who obviously likes her but is hiding secrets of his own.

Will being back home help Andy's PTSD, or will his terrible memories drag him to the edge of hell, and drugs push him over? The Impossible Knife of Memory is Laurie Halse Anderson at her finest: compelling, surprising, and impossible to put down.
Description taken from Goodreads.
---
For most people, this will be a great book. If you're a fan of Anderson's other works, I would highly encourage you to read this one. It's very much in the same vein as a lot of the her other popular novels set in high schools, and it has a lot of the same voice.
What it doesn't have is a character who I can truly sympathize with.
I think that sometimes, authors try too hard to create an angry character, and that's the feeling I got when I was reading about Hayley. She wasn't even real to me. If anything, she was pathetic. Sure, her dad has PTSD, and I was sorry for her. I wanted to help her. My not liking Hayley has absolutely nothing to do with her dad having PTSD; I thought that Anderson did a great job of portraying Hayley's father's family life and the problems their family faced.
What I didn't like about Hayley was the chip on her shoulder. Yes, I get that high school is dumb sometimes. Yes, I get that there are things about being a teenager that suck. But everybody has their own problems, and Hayley was a jerk to everybody that she met. I didn't really understand why she felt the need to be so tough all the time, and it wasn't even tough. She's a slut-shamer and a hater, and even though I could sympathize with her sometimes, I really disliked that about her personality.
The writing of THE IMPOSSIBLE KNIFE OF MEMORY is really well done. Not too flowery, but easy to relate to and just deep enough to be thought-provoking and poignant. The romance was very rushed, but I was forgiving of that fact because the romance was so cute.
Overall, I liked this book, but it wasn't memorable. It's enjoyable for a reread or two, but not a book I would buy. 2 stars.
pg count for the hardback: 391