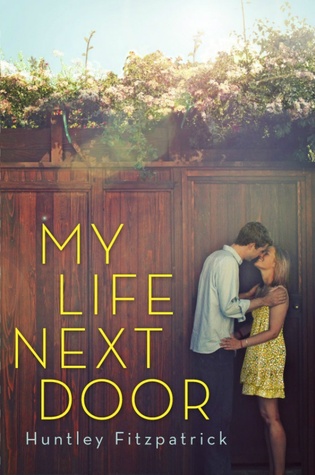 "One thing my mother never knew, and would disapprove of most of all, was that I watched the Garretts. All the time."

The Garretts are everything the Reeds are not. Loud, messy, affectionate. And every day from her rooftop perch, Samantha Reed wishes she was one of them . . . until one summer evening, Jase Garrett climbs up next to her and changes everything.

As the two fall fiercely for each other, stumbling through the awkwardness and awesomeness of first love, Jase's family embraces Samantha – even as she keeps him a secret from her own. Then something unthinkable happens, and the bottom drops out of Samantha's world. She's suddenly faced with an impossible decision. Which perfect family will save her? Or is it time she saved herself?

A transporting debut about family, friendship, first romance, and how to be true to one person you love without betraying another.
Description taken from Goodreads.
---
My first book genre love was fantasy. My most recently book genre love was contemporary, which I got into a few years ago. I think it shows in what I thought of MY LIFE NEXT DOOR, or maybe I'm just a black sheep.
It's not that I didn't love the book.
Okay, I didn't love it. I liked it. A lot. But the problem is, I can and can't see why people love it so much.
For one thing, am I the only one who felt like the pacing was rushed? It seems like the way the romance goes is: Samantha watches the Reeds -> Jase introduces himself to Samantha -> Samantha hangs out at the Reeds's houses a few times -> Jase kisses Samantha.
Something about that just feels a little rushed to me, like things happened too quickly when they barely knew each other. And speaking of barely knowing each other, Samantha talks to Jase about her mom's issues about five seconds after she meets him. Either Samantha really doesn't care about privacy as much as she thinks she does, or something's up.
That was the one big issue I had, and that was it, because there are so many things about MY LIFE NEXT DOOR to love.
There's the Garretts, and all of the characters really, because each one of them is relatable in his or her own way. I came to love the people who are portrayed as not-so-good, like Grace (Samantha's mom) and Tim (Samantha's best friend's brother). A lot of them make mistakes, and they're not perfect in any sense, but there is something funny and entertaining and sad about each of them. Fitzpatrick knew her characters and introduced all of them to me in a way that made me love them, despite their flaws and sometimes even for them.
There were other minor, nit-picky things about character reactions that I wasn't totally sold on, but I would definitely recommend this book to a contemporary fan and most likely a non-contemporary fan. This is a great read that deserves all of its hype. If you read this book and liked it, I would recommend Ali Novak's MY LIFE WITH THE WALTER BOYS. 3.5 stars.
pg count for the hardback: 394