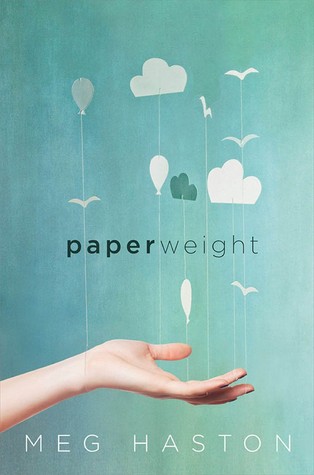 Seventeen-year-old Stevie is trapped. In her life. And now in an eating-disorder treatment center on the dusty outskirts of the New Mexico desert.

Life in the center is regimented and intrusive, a nightmare come true. Nurses and therapists watch Stevie at mealtime, accompany her to the bathroom, and challenge her to eat the foods she's worked so hard to avoid.

Her dad has signed her up for sixty days of treatment. But what no one knows is that Stevie doesn't plan to stay that long. There are only twenty-seven days until the anniversary of her brother Josh's death—the death she caused. And if Stevie gets her way, there are only twenty-seven days until she too will end her life.
Description taken from Goodreads.
---
There has been many a Harper Teen book that has fallen short, but has a fantastic blurb. This is not one of them.
PAPERWEIGHT deserves all the hype that has been placed around it. Not only did I really enjoy reading it, I loved getting to know the characters and read Stevie's story. There are very few books about mental illness that really make me feel for the characters, sympathize with their struggles and walk with them.
The best part of this book was Stevie. She made the story come to life. I thought that her struggles were realistic and well-executed.
But the most surprising part of this book was both pleasant and brilliant. It makes PAPERWEIGHT a breath of fresh air in the sometimes half-baked, sloppy genre that is mental illness, and that is the therapist. That's right. The shrink.
She is amazing, and she made me see therapists as people who are more than people who talk to others about their problems. In school, mental health therapists are posed as people who "enjoy dealing with difficult people". Even if that is the case, they're still people, and PAPERWEIGHT opened up my view exponentially. I loved getting to know the supporting cast, and the plot/narration style was perfect for this story.
Definitely a book I will be recommending. 4.5 stars.
pg count for the hardback: 304