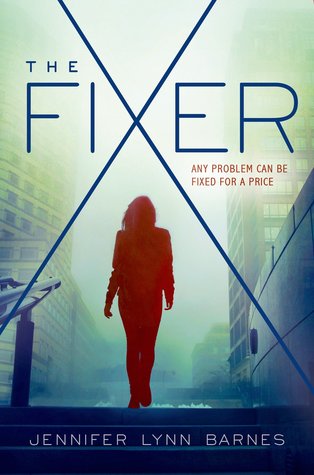 This thriller YA is Scandal meets Veronica Mars.

Sixteen-year-old Tess Kendrick has spent her entire life on her grandfather's ranch. But when her estranged sister Ivy uproots her to D.C., Tess is thrown into a world that revolves around politics and power. She also starts at Hardwicke Academy, the D.C. school for the children of the rich and powerful, where she unwittingly becomes a fixer for the high school set, fixing teens' problems the way her sister fixes their parents' problems.

And when a conspiracy surfaces that involves the family member of one of Tess's classmates, love triangles and unbelievable family secrets come to light and life gets even more interesting—and complicated—for Tess.

Perfect for fans of Pretty Little Liars and Heist Society, readers will be clamoring for this compelling teen drama with a political twist.
Description taken from Goodreads.
---
I can't even with this book.
If you're not a fan of political thrillers but you want to get into them or you think that you could be open to trying them, I would recommend THE FIXER. All of Jennifer Lynn Barnes's books, really. Because seriously.
This is a smart book that is both thrilling and incredibly well written. It's everything that a thriller and a mystery should be. On top of all of that, this book is suitable for 7th grade and up. There's nothing truly unsuitable for younger readers in this story, and it's fast paced enough to keep up with even the most impatient of readers.
What stuck out the most about this book was the characters. Even though THE FIXER has a huge cast, Barnes does an outstanding job of making them all memorable. That, and the writing.
THE WRITING.
From the very first page, Barnes hooked me on her story. Tess was the perfect heroine. She had a response for everything, and she wasn't perfect, but she was just enough for this book. She's smart and the moves that she and Ivy made were realistic. I could hardly put down this read, and I can tell I'm on the verge of another massive book hangover.
Honestly, when I first heard about this premise, I couldn't take it seriously. There have been far too many poorly written stories with this kind of idea, where the main character just fixes things or takes care of things. If you're tired of the same thing, then I won't be the first to tell you that THE FIXER stands alone. All in all, this is the best book that I've read since I finished TIGER LILY. I wish this was a stand-alone, but I'm excited to see what comes after this. 4.5 stars.
pg count for the hardback: 384
Series: The Fixer #1