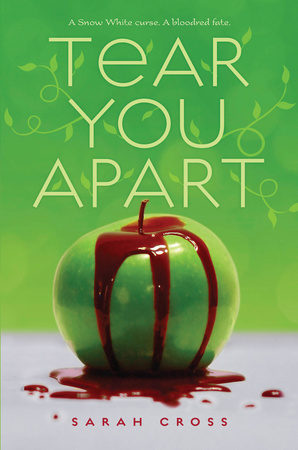 If you want to live happily ever after, first you have to stay alive.

Viv knows there's no escaping her fairy-tale curse. One day her beautiful stepmother will feed her a poison apple or convince her on-again-off-again boyfriend, Henley, to hunt her down and cut out her heart before she breaks his. In the city of Beau Rivage, some princesses are destined to be prey.

But then Viv receives an invitation to the exclusive club where the Twelve Dancing Princesses twirl away their nights. There she meets Jasper, an underworld prince who seems to have everything—but what he really wants is her. He vows to save her from her dark fate if she'll join him and be his queen.

All Viv has to do is tear herself away from the huntsman boy who still holds her heart. Then she might live to see if happily ever after is a promise the prince can keep. But is life as an underworld queen worth sacrificing the true love that might kill her?
Description taken from Goodreads.
---
I loved Sarah Cross's DULL BOY, and fans of the author will be relieved to find that her writing style and character development remain the same. I loved many of the same themes for the same reasons, especially the characters. There were many notable people, and the banter that they shared was really fun.
TEAR YOU APART failed on the ending and the last events of the plot. About halfway through, I realized that things were getting weird. And by weird I mean
Because things started going in circles.
And then people started dying one by one.
Then a few characters completely changed.
Finally, the ending felt like a cop-out.
The first half of this book was really good. I really enjoyed getting to know all the supporting characters, and I actually ended up liking the relationship between Henley and Viv, even though I also felt like it was forced and what ended up happening shouldn't have realistically happened. Also, where the heck were Henley's parents in the midst of all this? It seems as though all of the teens in this book have magical conveniently disappearing parents disorder (beside prince and Viv).
But the ending really did work for me. It was like Cross ran out of things to do halfway through writing the book and so randomly started killing people. A lot of random plot choices came out of nowhere and should have had more weight to them, but instead were incredibly abrupt.
All in all, I probably wouldn't recommend this book. It had a lot of potential, and I was really disappointed to find that I didn't enjoy it as much as I had hoped, but I'm hoping that the first book in the series will be better. I do have to say that after reading two novels by this author, I am a fan of her characters, so I will definitely be recommending DULL BOY and maybe KILL ME SOFTLY. 1.5 stars.
pg count for the hardback: 384
Series: Beau Rivage #2