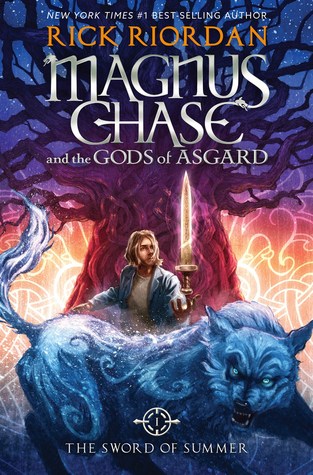 Magnus Chase has always been a troubled kid. Since his mother's mysterious death, he's lived alone on the streets of Boston, surviving by his wits, keeping one step ahead of the police and the truant officers.

One day, he's tracked down by a man he's never met—a man his mother claimed was dangerous. The man tells him an impossible secret: Magnus is the son of a Norse god.

The Viking myths are true. The gods of Asgard are preparing for war. Trolls, giants and worse monsters are stirring for doomsday. To prevent Ragnarok, Magnus must search the Nine Worlds for a weapon that has been lost for thousands of years.

When an attack by fire giants forces him to choose between his own safety and the lives of hundreds of innocents, Magnus makes a fatal decision.

Sometimes, the only way to start a new life is to die . . .
Description taken from Goodreads.
---
As someone who has read all of Rick Riordan's middle-grade novels to date because I just love his writing that much, I would be the first to vouch for him as an amazing writer. In fact, there's no doubt that he is. However, I do have to admit, from an objective viewpoint, that this book is incredibly reminiscent of Percy Jackson and the Olympians.
And by reminiscent I mean if you exchanged names, then the first half of THE SWORD OF SUMMER would read just like PJO.
And there are parts of that fact that aren't such bad things. All the humor of PJO remains in this novel, at times making me laugh out loud. There are still lovable characters, witty dialogue, beautiful prose. But the problem was that I couldn't forget PJO while I read the first half of this novel. Magnus Chase didn't stand on his own.
Everything from the way that Magnus "dies in agony" to how he gets rescued from that agony has been used in PJO before. The situation is far from Cassandra Clare level, in fact, despite all of the repetition, I'm still excited to see how the next book pans out, but I was disappointed with many aspects of this novel.
That said, I was also satisfied with many aspects of this novel. The second half of the book in particular branched off from ideas Riordan has explored before, and there was just as much Norse mythology in this book as there were Egyptian mythology in the Kane books and the PJO series. Quality control was there, it was the fact that I've seen all this before that threw me off.
For people who are diehard fans of Rick Riordan, I don't think many will be too disappointed. There were still many things to love, and characters to fall in love with. And for those people new to the Riordan cult, welcome to the dark side.
As for me, I can't say I'm not wary of these new books. In my mind, the Percy Jackson series still remains supreme. Greek mythology was my first and foremost mythology love, and will probably remain on top for awhile yet. Words can't explain how much I love those books and the characters within them. However, overall, I am looking forward to the rest of this series. 3 stars.
pg count for the hardback: 507
Series: Magnus Chase and the Gods of Asgard