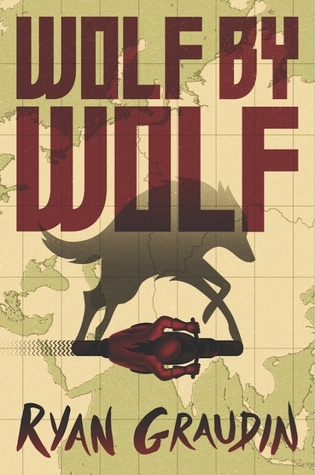 Code Name Verity meets Inglorious Basterds in this fast-paced novel from the author of The Walled City.

The year is 1956, and the Axis powers of the Third Reich and Imperial Japan rule the world. To commemorate their Great Victory over Britain and Russia, Hitler and Emperor Hirohito host the Axis Tour: an annual motorcycle race across their conjoined continents. The victor is awarded an audience with the highly reclusive Adolf Hitler at the Victor's ball.

Yael, who escaped from a death camp, has one goal: Win the race and kill Hitler. A survivor of painful human experimentation, Yael has the power to skinshift and must complete her mission by impersonating last year's only female victor, Adele Wolfe. This deception becomes more difficult when Felix, Adele twin's brother, and Luka, her former love interest, enter the race and watch Yael's every move. But as Yael begins to get closer to the other competitors, can she bring herself to be as ruthless as she needs to be to avoid discovery and complete her mission?
Description taken from Goodreads. I received an advance copy of this book, published on October 20th, 2015, via the publisher in exchange for an honest review. These opinions are my own.
---
I read Ryan Graudin's THE WALLED CITY and I thought it was good. Just good. Not any better or worse. I was a little disappointed at the end, because I felt like it could have been better.
WOLF BY WOLF is that better.
Normally, I don't even like historical fiction. I like some select few historical fiction reads, but they have to have a secret, magical blend of great elements. WOLF BY WOLF has those great elements, and more. More than anything, I loved the world-building of this novel. Like a well-developed fantasy novel, this story makes it so that I can't even begin to describe what I love most about the world.
It's just… real. 
Everything from the idea behind the novel to the rich imagery of the setting was perfectly done. I haven't even enjoyed some of Graudin's novels (namely ALL THAT GLOWS) but all of her skills meshed together in WOLF BY WOLF to create something I could fall into and get lost in.
As someone who ends up reading a lot, I see a lot of attempted torture and attempted murder and attempted gore. It doesn't work most of the time. I'm not actually horrified; I just know that the story wants me to be. In this book, I was actually horrified. I actually felt for Yael, the girl who went through a ton of experimentation to get to where she is. I loved her story, I hated what happened to her and I became completely engrossed in her story from beginning to end. In addition to the world-building, she really made WOLF BY WOLF.
I wasn't so much a fan of the plot, specifically the ending, but I'd tentatively say that I'm okay with what happened because this is a series. I can't wait to see what happens in the next book, and I'm so glad that this is a duology. Would recommend to pretty much any fantasy or historical fiction fan as well as fans of Maggie Stiefvater's THE SCORPIO RACES. 4.5 stars.
pg count for the hardback: 400
Series: Wolf by Wolf