Welcome to the second part of day one of Thankful for Words! This week, I'm thankful for debut authors, and today I'm thankful for fantasy. The second author I'm thankful for today is:
Melinda Salisbury (Author of The Sin Eater's Daughter)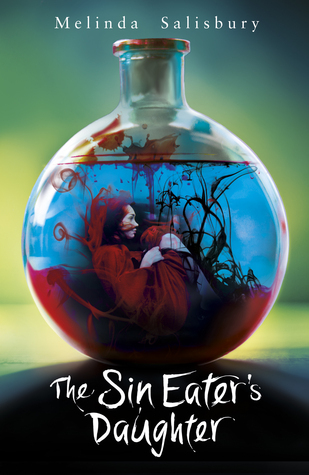 Title: The Sin Eater's Daughter

Author: Melinda Salisbury

I am the perfect weapon.
I kill with a single touch.

Twylla is blessed. The Gods have chosen her to marry a prince, and rule the kingdom. But the favour of the Gods has it's price. A deadly poison infuses her skin. Those who anger the queen must die under Twylla's fatal touch.

Only Lief, an outspoken new guard, can see past Twylla's chilling role to the girls she truly is.

Yet in a court as dangerous and the queen's, some truths should not be told..
Description taken from Goodreads. 
---
One of my favorite interview questions to ask (provided the author is a fan of HP) is "What Harry Potter houses would your characters be sorted into?" I loved Melinda's enthusiasm for HP, so for all of you HP/SIN EATER'S DAUGHTER fans out there, I have a gift:
What Harry Potter Houses Would Your Characters Be Sorted Into?
Twylla – Despite the fact she hates the colour red (and who can blame her?) Twylla is a Gryffindor, which might surprise some. At first it might not seem as though she belongs in the house where 'dwell the brave at heart', but soon enough, her daring, nerve, and blind recklessness start to show. She's hot-tempered and more than a little arrogant at times too, but also with a tendency towards melancholy, which seems a classic Gryffindor trait, though not one often discussed. I think of her like a young Neville Longbottom/young Remus Lupin.

Lief – Lief Vastel is a true Slytherin. He's steadfastly loyal to those he loves, willing to make great sacrifices to keep them safe, but has no qualms lying, stealing from or cheating those he doesn't. He's passionate, quick thinking, determined, and more than a little cunning, and his love, once earned, won't be shaken. He might be a bad boy, but he has his own honour code beneath it all.

Merek – The Crown Prince of Lormere is a Ravenclaw. Merek loves to learn; the happiest he has ever been in his life was during the years he spent touring Lormere, Tregellan, and Tallith, discovering the history, the customs and the legends of his world. He's an idealist and a dreamer, always thinking forward, always planning and preparing. He is a skilled artist, and takes great pleasure in creating. And despite his austere public face, he has a dark, and witty sense of humour.

The Queen – Queen Helewys is the dark side of Slytherin; she's ruthless and will brook no opposition when it comes to getting her way. She's a master manipulator, and can harbour a grudge like no one else. She craves power and glory, and will stop at nothing to achieve it. No matter the cost.

The King – Like his stepson, Terryn is a Ravenclaw, who also loves to learn. He has little time for the politics and scheming of court life, preferring to leave it to his wife while he settles down with a good book, or wanders the corridors pondering the lives of those who've gone before him and those who might come next. Terryn is also wise. He loves music, and song, appreciating the beauty of the arts is his greatest joy.

Dorin – Loyal, lovely Dorin is a Hufflepuff through and through. He's dedicated absolutely to his role, and cares deeply for his charge, though he tries not to show it. Patient, hardworking and kind, he's an absolute credit to the House of the Badger.

The Sin Eater – Twylla's mother is also a Hufflepuff, which may surprise some. She is utterly dedicated to her role as the Sin Eater of Lormere, unwaveringly so, and as patient as the death she serves. There is a tendency to believe that all Hufflepuffs are lovely, airy and fluffy, but I think that does them as much of a disservice as assuming all Slytherins are evil, or all Gryffindors are chivalrous. As a wise (and beautiful) man once said: "We all have both light, and darkness inside of us." Even Hufflepuffs. Loyalty can blind you to faults, dedication can make you single-minded in your focus. And justice is subjective… Who gets to decide what's right, and what isn't?

Dimia – Dimia is a Hufflepuff too, kind hearted, tolerant and sweet-natured. She will go out of her way to help, is quick to forgive, and discreet.

Tyrek – Tyrek is a posterchild for Gryffindor; full of bravado, fire and longing to prove himself. He dreams of honour and glory, and has a strong moral compass.

Rulf – Tyrek's herbalist father is a Ravenclaw, happiest down in his laboratory, experimenting with plants and learning what he can from them. He takes little interest in most things outside of his work, except for his son; his pride and joy and his greatest achievement.
---
About Melinda
Melinda Salisbury lives by the sea, in the south east of England. As a child she genuinely thought Roald Dahl's Matilda was her biography, in part helped by her grandfather often calling her Matilda, and the local library having a pretty cavalier attitude to the books she borrowed. Sadly she never manifested telekinetic powers. She likes to travel, and have adventures. She also likes medieval castles, non-medieval aquariums, Richard III, and all things Scandinavian. The Sin Eater's Daughter is her first novel, and was published by Scholastic UK in February, 2015 and has sold in 12 other territories, including the US, Australia, France, Germany and Brazil. She tweets at @AHintofMystery.
---
Thanks to Melinda for kicking off this event and for appearing on TSW! Be sure to find Becky at her website and Twitter for all things THE SIN EATER'S DAUGHTER related and comment below with what Harry Potter house you or your favorite character(s) would be sorted into! Tomorrow's author is Emily Adrian!