Welcome to the kickoff of Thankful for Words! For the first 25 days of November, The Silver Words is celebrating words, with a theme for every week and one or two people featured on the blog to talk about a certain aspect of that theme. This week, I'm thankful for debut authors, and today I'm thankful for fantasy. The author I'm thankful for is:
Becky Wallace (Author of The Storyspinner)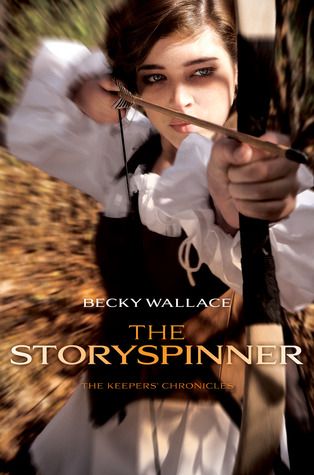 Title: The Storyspinner

Author: Becky Wallace

Drama and danger abound in this fantasy realm where dukes play a game for the throne, magical warriors race to find the missing heir, and romance blossoms where it is least expected.

In a world where dukes plot their way to the throne, a Performer's life can get tricky. And in Johanna Von Arlo's case, it can be fatal. Expelled from her troupe after her father's death, Johanna is forced to work for the handsome Lord Rafael DeSilva. Too bad they don't get along. But while Johanna's father's death was deemed an accident, the Keepers aren't so sure.

The Keepers, a race of people with magical abilities, are on a quest to find the princess—the same princess who is supposed to be dead and whose throne the dukes are fighting over. But they aren't the only ones looking for her. And in the wake of their search, murdered girls keep turning up—girls who look exactly like the princess, and exactly like Johanna.

With dukes, Keepers, and a killer all after the princess, Johanna finds herself caught up in political machinations for the throne, threats on her life, and an unexpected romance that could change everything.
Description taken from Goodreads. 
---
Debut Authors are Thankful
This spring, my debut novel THE STORYSPINNER was published Simon & Schuster/McElderry. It has been an incredible, exciting, bumpy, unexpected journey and I'm tremendously thankful that 2015 was the year my publishing dreams came true.

With that said, and at risk of this sounding like an acknowledgments page, I want to explain who is being thanked at the back of nearly every book and why. I can honestly say that though writing is a "solitary venture," it takes a team to get a book into print.

Critique Partners—Critique partners check for changes big and small.  They point out plot holes and that your love interest is a little bit of a pansy (this has, of course, never happened to me. *cough*). They read for content, pacing, character arc, setting description, and then they do it all again. And they do it all for free.  Their input is integral for taking an awful first draft and turning it into something readable, enjoyable, and of course, marketable.  I don't know a single writer who can sell their novels without a beta reader or five. 

I'm super lucky in the CP category because my readers are also good friends. In addition to providing professional feedback, they provide emotional support for all the ups and downs associated with publishing.

Literary Agent—A literary agent does not simply sell your book. They champion a story that they've worked on alongside you.  Much like critique partners, literary agents give insightful feedback, careful criticism, and professional insight.  Sometime they give you a harsh slap of reality and sometimes they hand you a bottle of champagne.

My agent, Jenn Laughran, was once described to me as the "bulldog of the business." She fights hard for the stories that she loves, and she gets results. I'm so grateful that I've had her in my corner for the last four years. *smooshes*

Editors—Don't skip this one!  Even though it seems obvious that editors edit, they also teach story craft. You want to keep tension in an established romance? Editors point out ways to make that happen. You want to add depth to a character or plot line? They'll give suggestions on where small changes can create incredible results. I truly believe that behind every great book, there is a great editor.

Copy Editors—Are the people who keep authors from looking stupid.  This goes far beyond correct usage of the Oxford comma and modifier agreement. When you write hundreds of thousands of words for one manuscript (no matter how many words make it between the pages, there are seven times as many that have been used and discarded), sometimes you make stupid mistakes—like changing the spelling of a main character's name or forgetting which direction a city is on your map—and copy editors save authors from that sort of embarrassment.

Cover Designers—Here's a little secret you may not know about publishing: for every cover you see on the shelf three or more cover comps were discarded. Designers come up with ideas they know will never be accepted. Can you imagine how frustrating that would be?

I feel lucky for my covers. They are very different from the majority of fantasy covers in the YA market.  I also know the incredible amount of work that went into making them happen—and that the design team almost got kicked out of Central Park to get the shot that finally ended up on the cover of THE STORYSPINNER.

Publicists—Ever wonder who mails out all those ARCs or facilitates all those blog tours?  Yep, those are just a few of a publicist's task. For every single book signing, conference, and author tour, a publicist is coordinating all of those events and helping spread the word to local news outlets and through social media.  A good, involved publicist makes a huge impact for authors who otherwise have no marketing budget.

Bloggers and Book Reviewers—Word of mouth sells books. Sure, ads in Entertainment Weekly and USA Today are great for big name authors. But those of us with more…moderate…book deals rely on book lovers to do the marketing for us. You'll see a reminder on twitter at least twice per week that if you love a book, review it. That's not some throw-away statement. Bloggers and book reviewers have the power to create careers.

Instafans—Who are these people? I don't know, but I love them. They send emails and tweets and artwork based on something an author created. They're panting with excitement for every update on sequels and new stories. They handsell books through their reviews and rabid enthusiasm. They make the entire process worth it.

Friends and Family—Save writers from themselves. They save writers from poor hygiene and worse diets. They save us from loneliness and writer's block. They comfort us when things go sideways, and motivate us when we're feeling depressed or defeated.  They love us even when the rest of the world rips on our words.

It's a good list of things to be grateful for words!  And I hope that if you're a writer you'll take a second to look at this list and say a word of thanks to all the people who are helping you along your journey. I know that I will.
---
About Becky
In second grade, Becky Wallace had to sit in the corner because she refused to write anything except princess stories and fairy tales (and because she talked too much). Her time in isolation gave her plenty of opportunities to dream up the fantasy worlds she's been dabbling with ever since. She was lucky enough to find her own real-life Prince Charming. They have four munchkins and live in happy little town near Houston, Texas.
---
Thanks to Becky for kicking off this event and for appearing on TSW! I can't wait to read THE STORYSPINNER. Be sure to find Becky at her website, Twitter and Facebook for all things THE STORYSPINNER related and comment below with your favorite part of the writing world! Tonight's author is Melinda Salisbury!