Today I'm thankful for contemporary authors, and the first contemporary debut author I'm thankful for is:
Emily Adrian (Author of Like It Never Happened)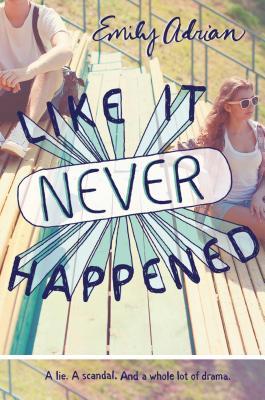 Title: Like it Never Happened

Author: Emily Adrian

Stereotypes, sexuality, and destructive rumors collide in this smart YA novel for fans of Sara Zarr's Story of a Girl, Siobhan Vivian's The List, and E. Lockhart's The Disreputable History of Frankie Landau-Banks.

When Rebecca Rivers lands the lead in her school's production of The Crucible, she gets to change roles in real life, too. She casts off her old reputation, grows close with her four rowdy cast-mates, and kisses the extremely handsome Charlie Lamb onstage. Even Mr. McFadden, the play's critical director, can find no fault with Rebecca.

Though "The Essential Five" vow never to date each other, Rebecca can't help her feelings for Charlie, leaving her both conflicted and lovestruck. But the on and off-stage drama of the cast is eclipsed by a life-altering accusation that threatens to destroy everything…even if some of it is just make believe.
Description taken from Goodreads. 
---
Interview
1.) How did it feel to debut with LIKE IT NEVER HAPPENED? 
Good! I'm really proud of it.
2.) What was the hardest part of writing this book? 
The book has A LOT of moving parts. Rebecca is navigating her first relationship and her first best-friendship, and she's getting to know her estranged sister, and she's trying to maintain her status as star thespian. And each of the novel's plot twists stems from something rooted pretty deep in Rebecca's past. So the hardest part of writing the book was just ensuring that everything added up and made sense!
3.) Is there anything you wish you'd known about publishing before you went into it? 
So many things. Just, so many things.
4.) If you had to describe LIKE IT NEVER HAPPENED with line/lines from plays, what line(s) would you use? 
I'm going to cheat, and quote a poem instead. This is from "Many Happy Returns" by W. H. Auden:

So I wish you first a

Sense of theatre; only

Those who love illusion

And know it will go far:

Otherwise we spend our

Lives in a confusion

Of what we say and do with

Who we really are.
5.) What is your writing fuel? 
Coffee.
6.) Is there any advice you would give to authors debuting later this year or in the years to come? 
Just that there's a lot of noise surrounding publication, and it's exciting, but all of it—good reviews, bad reviews—is equally distracting when it comes time to write your next book. At a certain point you have to tune it out.
7.) Did you ever get writer's block while you were writing? How did you deal with it? 
If I'm having trouble getting into a particular scene or chapter, I spend a couple of hours writing about the scene I want to write instead of actually writing it. As if I were watching the whole thing go down and trying to record as many details as fast as possible. I generally find that once I've imagined something so thoroughly, it's easier to locate the precise words.
8.) Would you ever want to see a theater version of LIKE IT NEVER HAPPENED? 
That would be awesome.
---
About Emily
Emily Adrian was born in 1989 in the suburbs of Portland, Oregon. After graduating from Portland State University, she moved to Toronto, Ontario, where she worked as a receptionist while secretly writing books.
Emily currently lives in Toronto with her husband and their dog named Hank. Like It Never Happened is her debut novel.
---
Thanks so much to Emily for appearing on TSW, and for letting me interview her. Be sure to find Emily at her website, Twitter and Facebook for all things LIKE IT NEVER HAPPENED related and comment below with what contemporary novels you're thankful for! Tonight's contemporary author is Michelle Levy.