Today I'm thankful for debut realistic fiction authors, and the realistic fiction author I'm thankful for is:
Jen Larsen (Author of Future Perfect)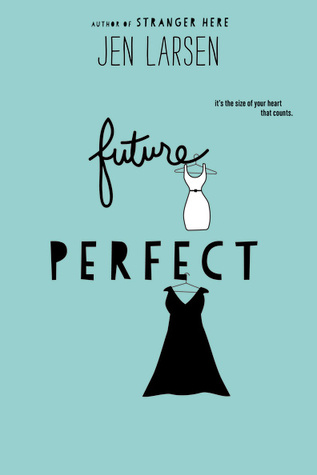 Title: Future Perfect

Author: Jen Larsen

Every year on her birthday, Ashley Perkins gets a card from her grandmother—a card that always contains a promise: lose enough weight, and I will buy your happiness.

Ashley doesn't think there's anything wrong with the way she looks, but no amount of arguing can persuade her grandmother that "fat" isn't a dirty word—that Ashley is happy with her life, and her body, as it is.
But Ashley wasn't counting on having her dreams served up on a silver platter at her latest birthday party. She falters when Grandmother offers the one thing she's always wanted: tuition to attend Harvard University—in exchange for undergoing weight loss surgery.

As Ashley grapples with the choice that little white card has given her, she feels pressured by her friends, her family, even administrators at school. But what's a girl to do when the reflection in her mirror seems to bother everyone but her?

Through her indecisions and doubts, Ashley's story is a liberating one—a tale of one girl, who knows that weight is just a number, and that no one is completely perfect.
Description taken from Goodreads. 
---
Stop Waiting For Your Happy Ending
I have spent so, so much time waiting for my happy ending. I've spent so much of my life thinking that if I got skinny enough, pretty enough, dressed well enough, changed everything about me from my hair to my clothes to basically who I was I would finally have a happily ever after.

And this, of course, is a big old bunch of crap.

Of course, I didn't realize that until way too many years of my life had passed with me sitting around hoping someday I'd deserve to be happy and my future would be perfect. I learned this very, very clearly when I found out about the idea of weight loss surgery and I jumped on it because I thought aha! This is going to fix everything!

It fixed nothing. I lost a bunch of weight, which is what I thought would be when my whole life would suddenly turn into roses and happiness and self-love. What actually happened is that I realized that you can be unhappy in your body at any size. And you will be, if you're uncomfortable in your skin, with who you are and how you feel. If you think that you need to be perfect before you can be worthwhile.

In FUTURE PERFECT, Ashley is beautiful, confident, and fat, and facing a grandmother who loves her more than anything and is afraid that her weight will hold her back. Jolene is a transgender girl who is told on every side what she should "do about" her body. Laura is told that not conforming to someone else's idea of what her life should look like, maybe not even actually knowing what she wants yet, means she is headed toward unhappiness.

This is what I want everyone to know: You're perfect now. There is no future version of you that deserves more happiness, more good things, more success and more love.

The hardest thing is that it feels like so much of the world is designed to cut you down and make you second guess yourself and throw examples in your face of how you're supposed to be and look and feel and act. Who you're supposed to love and be attracted to. How you're supposed to present yourself and your ideas about yourself to the world. And if you disagree—you're smacked down. You're told you're wrong.

Even when they try to be positive, they fall down. So many magazine articles are like, "You don't have to be perfect! You can love your flaws!" And I'm thinking wait, my body is flawed because I don't look like a Victoria's Secret model? Where the hell did you get that idea, and why is that okay to say?

Your body is perfect. Your body is what carries you through the day. It's not just the vehicle that carries you around, it's part of who you are. Every shape of it and size of it and ability of it is lovable and worth loving. There's no holding out for a better tomorrow because you don't need to. It is so worth trying right this second to really, really believe and hold on to this idea. To know that it's true. To know that so many people think it's true about you.

The hardest thing is that is not something that you can control. And it's something you have to fight against. But I promise that it gets easier every day. And the better you get at it, the more people who are like you—strong and beautiful and happy with themselves and happy with you—you'll attract and you'll form an army and you'll take over the world.
---
About Jen
Jen Larsen is a full-time writer and feminist. She has an MFA in creative writing from the University of San Francisco, and currently lives in Minneapolis with her sweetheart and a menagerie.
---
Thanks to Jen for appearing on TSW, and for writing this post! Be sure to find Jen at her website, Twitter and Facebook for all things FUTURE PERFECT related. Comment below with something that makes you feel awesome about yourself, if it's a movie, a song, a book, and claim your points on the Rafflecopter! Tomorrow's author is Sarah J. Schmitt.