Today I'm thankful for paranormal debut authors, and the paranormal debut author I'm thankful for is:
Sarah J. Schmitt (Author of It's a Wonderful Death)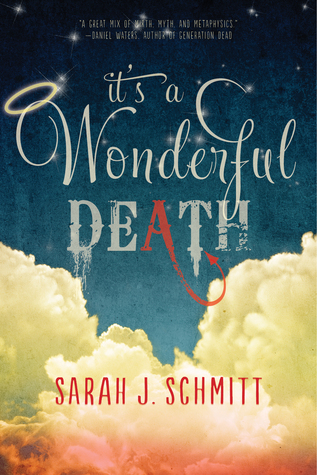 Title: It's a Wonderful Death

Author: Sarah J. Schmitt

Seventeen-year-old RJ always gets what she wants. So when her soul is accidentally collected by a distracted Grim Reaper, somebody in the afterlife better figure out a way to send her back from the dead or heads will roll. But in her quest for mortality, she becomes a pawn in a power struggle between an overzealous archangel and Death Himself. The tribunal presents her with two options: she can remain in the lobby, where souls wait to be processed, until her original lifeline expires, or she can replay three moments in her life in an effort to make choices that will result in a future deemed worthy of being saved. It sounds like a no-brainer. She'll take a walk down memory lane. How hard can changing her future be?

But with each changing moment, RJ's life begins to unravel, until this self-proclaimed queen bee is a social pariah. She begins to wonder if walking among the living is worth it if she has to spend the next sixty years as an outcast. Too quickly, RJ finds herself back in limbo, her time on Earth once again up for debate.

RJ is a snarky, unapologetic, almost unredeemable, very real girl. Her story is funny and moving, and teens will easily connect with her plight. Prepare to meet the Grim Reaper, who's cuter than you'd expect; Hawaiian shirt–wearing Death Himself; Saint Peter (who likes to play Cornhole); and Al, the handler for the three-headed hound that guards the gates of Hell. This cast of characters accompanies RJ through her time in the afterlife and will do their best to gently shove her in the right direction.
Description taken from Goodreads. 
---
Top Ten Eleven Tips for Being a Debut Author
When I signed my first book contract back in 2013, I thought everything would be lollipops and daisies. It was not. Not to be all whiny and all, but the debut year is haaaard. Don't get me wrong. Most of the time it's full of awesomeness, but you really have to be prepared for anything. (Like, oh, I don't know… your publisher closing 3 months before your book is supposed to come out. True story.) So, for those of you who are yearning for the day when your name will grace the bookstore (and library) shelves, let me give you some advice.

1. Mood swings are normal. Let me repeat this: Mood swings are normal. (For those of you who are friends with debut authors, it is best to learn the signs of a potential meltdown in order to be far away from ground zero when the event occurs.) Whether you're waiting for reviews to come out or freaking out over your ARCs and how pretty the cover is, the emotions of a debut year will probably have you all over the place. My advice: always remember that there are writers who would (metaphorically) kill to be in your place.

2. Keep your vice of choice on hand at all times. For those times when the mood swings are heading south, this is very important. Vices differ from person to person. Some people need sweet tea and absolute silence. Others need red wine and Metallica. Me, I'm a Diet Dr. Pepper and Twizzler girl. And, if I'm not in a coffee shop, I tend to steam coffitivity.com to trick my mind into thinking I'm among java guzzling patrons.

3. Budget your money and your time. Gone are the days when the publisher sends its newest author on a whirlwind coast to coast book tour. A debut author could spend a small fortune, some even more than their advance, on the debut year. My advice: figure out what your strengths are and then spend the money there. Does the idea of speaking in front of a crowd of people make you want to throw up but you still want people to get to know your awesome personality? No problem. Invest in some good video equipment and take a chance on vlogging. If, on the other hand, you are like me and have a "conference persona" and a mentality that if people will just meet me, they will better appreciate my book and love it, then maybe conferences are your thing. Regardless, find something that works for you and with your talents.

4. Swag doesn't sell books but it does bring people to your table. I don't think anyone I've met has ever said, "This one time, at a conference, someone randomly picked up my bookmark and then they bought the book." However, swag has its place in the bookselling process. It brings people to you. A little bowl of candy or buttons will bring people to you and that's when you trap them with how awesome you and your book are.

5. You are the best promoter of your book. When someone asks you about your favorite book, how do you answer? With excitement and emotion? Yeah, me too. When talking about your book, apply that same enticement. Yes, self-promotion can feel like bragging. Guess what. It's not. You wrote a book and it's getting published. In some people's worlds, you are a rock star. Every time I go to a writing or library conference, I add "Ask me about 'It's a Wonderful Death'!" on my name badge. If they are brave enough to ask, they're fair game but I don't have to worry about being pushy. And remember what I said about being a rock star to some people… by some people I mean librarians and kids. Trust me. They want to know about your book!

6. Perfect your elevator pitch. I can't stress this one enough. As much as people want to know about your book, they do not want you to drone on and on about it. Get that 45 second or less elevator pitch down to a science.

7. When things get crazy, and they will, turn to book 2. As a debut author, you ALWAYS have something to do. Even if you think you have time to binge watch Girl Meets World on Netflix, book 2 is always there, waiting for you. So when the marketing craziness of the debut years gets overwhelming, turn to book 2.

8. If book 2 is eluding you, don't let it freak you out. Confession time: I don't have book 2 finished yet. Who are we kidding? I have pre-writing done on two books but no substantial word count to brag about. It's not a big deal. Relax and remember that you've already written one book that people believed in enough to invest money in. You will be able to do it again. You have not used up all of your creative currency. You might have forgotten the combination to the vault, but it's still there.

9. Make time for non-book activities. The best thing I've found to alieve some of the insanity of the times is to be around my nearest and dearest who have NOTHING TO DO WITH PUBLISHING! First of all, they keep you grounded in reality. Second, they make sure you aren't allowed to wallow in despair. Third, they will be your biggest cheerleaders ever. And, more than likely, they will make you laugh. A lot. Laughter is one of the best relievers of stress and that night, I came home fully relaxed. Plus, you're much less likely to check your GoodReads reviews if you are connecting with other human beings.

10. The debut/writing community is one of the warmest groups of people. Period. Make sure you connect with them, whether it's online, at conferences, or, if you're lucky, at a local coffee shop because you all live near each other.

11. Enjoy your debut year. You will never have an experience quiet like it again.
---
About Sarah
Sarah J. Schmitt is a K-8 school librarian and Youth Service Professional for Teens at a public library who, in addition to planning a variety of events, enjoys opening up the world of books to reluctant readers. She runs a teen writing program that combines Skype visits from well-known authors and screenwriters and critique group style feedback.
Prior to immersing herself in the world of the written word, Sarah earned her Masters of Science in Higher Education Administration and Student Affairs from Indiana University where she worked with first year college students as they acclimated to college life. Sarah lives outside of Indianapolis with her husband, two kidlets and a cat who might actually be a secret agent. She is an active member of SCBWI, ALA and the Indiana Library Federation and is a regular participant at the Midwest Writer's Workshop. Her debut novel, IT'S A WONDERFUL DEATH, comes out Fall, 2014 from Strange Chemistry.
---
Thanks so much to Sarah for appearing on TSW, and for talking about things to remember as a debut author. Be sure to find Sarah at her website, Twitter and Facebook for all things IT'S A WONDERFUL DEATH related and comment below with one thing on your bucket list!