Today I'm thankful for debut thriller authors, and the thriller author I'm thankful for is:
Maggie Hall (Author of The Conspiracy of Us)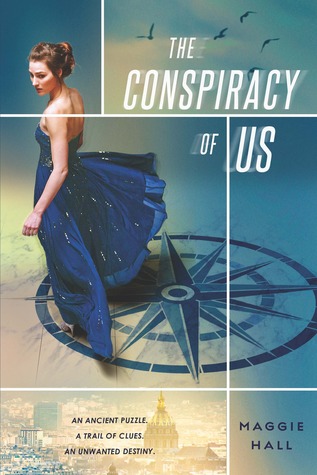 Title: The Conspiracy of Us

Author: Maggie Hall

A fast-paced international escapade, laced with adrenaline, glamour, and romance–perfect for fans of Ally Carter

Avery West's newfound family can shut down Prada when they want to shop in peace, and can just as easily order a bombing when they want to start a war. Part of a powerful and dangerous secret society called the Circle, they believe Avery is the key to an ancient prophecy. Some want to use her as a pawn. Some want her dead.

To unravel the mystery putting her life in danger, Avery must follow a trail of clues from the monuments of Paris to the back alleys of Istanbul with two boys who work for the Circle—beautiful, volatile Stellan and mysterious, magnetic Jack. But as the clues expose a stunning conspiracy that might plunge the world into World War 3, she discovers that both boys are hiding secrets of their own. Now she will have to choose not only between freedom and family–but between the boy who might help her save the world, and the one she's falling in love with.
Description taken from Goodreads. 
---
Interview with Maggie
How does it feel to have your book out in the world? What are the best/worst parts?

At first it was terrifying, but it's been really fun once I got used to the fact that people were actually reading a thing I'd written. I love that the characters who lived only in my head for so long now belong to readers as much as they belong to me. I think that's the best part—having readers connect with the book. I absolutely adore hearing from people who have read and enjoyed CONSPIRACY and are excited for MAP OF FATES! And the worst part? Hm. Most of it is pretty great, but I'll be honest with you—I kind of hate talking about myself, so having to continuously market myself and the book on social media and things is not my favorite part of being an author. I'd much rather just write all day! But I still feel very lucky to get to do this.

Is there anything you wish you had known about publishing before you got into it? 

I'm lucky that I knew a lot about publishing, but it's still always a surprise how long things take. People who have never been involved in publishing are shocked to hear that it takes an average of two years from the time a book sells until it's on shelves. And it makes readers crazy that that's a whole year—or more!—between books in a series, but it really does take that long to write, edit, and promote a book.

Is there anything you want other debut authors (that haven't debuted yet) to know?

I think it's surprising for a lot of debut authors to realize just how much of the process is out of our control. We're in charge of writing the best book we can, but everything else—what your cover looks like, what kind of marketing the book receives, reviews, reader reactions—none of that is in your hands. For authors who have spent years working on a book, and agonized over every tiny decision about the story, that's sometimes hard to swallow, but we have to get used to it!

If you were Avery and you could spend the day with Luc, Stellan or Jack, who would you go with, where would you go and what would you do? 

Ooh, that's a hard one! I think it would depend on my mood. Life is generally pretty tough for Avery these days, so I think her/my first choice right now would be to hang out with Luc. He's one of those people who's almost annoyingly happy all the time, and he's good at putting you in a good mood, too, so I think that'd be good for Avery's mental health. We'd go to the beach, eat ice cream, splash in the water, and just relax!

What was your favorite part of writing THE CONSPIRACY OF US? 

My favorite scenes to write are always (surprise surprise) the romantic scenes, and there are a couple romantic scenes in the book I really love. Besides specific scenes, though, I loved writing the settings. I was lucky to be able to do lots of research in Paris and Istanbul, where the book is set, and it was so fun to get to add little details here and there to make the settings really pop. Travel's one of my favorite things, and I loved getting to share that in the book.

Who do you relate with the most in TCoU?

Most of the time, I'd say Avery. My life growing up was absolutely nothing like hers, and I never had occasion to do most of the things she does in the book, but there are a lot of things about being sixteen that I still remember very clearly, and that Avery goes through, too. I definitely relate to a lot of her feelings about wanting to belong somewhere, and about being insecure about what she's doing but doing it anyway.

And then occasionally, I relate to Stellan, because he calls out stupid things Avery does. I find that funny, because sometimes even I, as the author, shake my head and sigh at her being dumb, and Stellan is always the one to notice and call her on it.

If you had to live on a deserted island for a month, what items would you take with you? 

Let's assume I have a survival kit, right? After that, books!! I always keep a book in my purse when I'm going out—waiting in a long line at the post office is far less annoying when I have a good book to read, and I'd assume waiting for rescue on an island would be the same! Oh, and chocolate. If it was hot out, it'd melt, so I'd probably have to eat it all in the first couple days—but that's a sacrifice I'm willing to make. :)

Is there any advice that you would give to aspiring thriller writers?

Read a ton, and in different genres. I read a lot of YA, but I also read a lot of adult thrillers in different categories, and tons of other things, too. I think reading outside your direct genre is really helpful for any writer, because it's easy to get stuck in your ways, and I think the best thrillers—and the best books, really!—are a little outside the box!
---
About Maggie
Maggie Hall indulges her obsession with distant lands and far-flung adventures as often as she can. She has played with baby tigers in Thailand, learned to make homemade pasta in Italy, and taken thousands of miles of trains through the vibrant countryside of India. In her past life, she was a bookstore events coordinator and marketing manager, and when she's not on the other side of the world, she lives with her husband and their cats in Albuquerque, New Mexico, where she watches USC football and works in graphic design.
---
Thanks so much to Maggie for appearing on TSW, and for doing this great guest post. Be sure to find Leila at her website, Twitter and Instagram for all things THE CONSPIRACY OF US and comment below with where in the world you want to travel! Tomorrow's author is Marieke Nijkamp.