Today I'm thankful for diverse lit authors, and the author I'm thankful for is:
Marieke Nijkamp (Author of This is Where it Ends)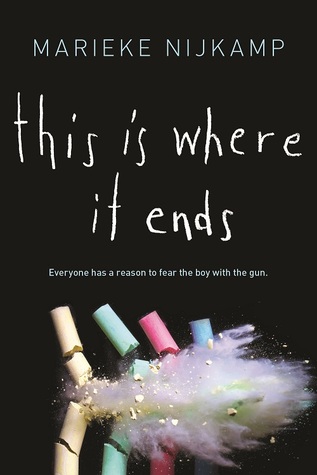 Title: This is Where it Ends

Author: Marieke Nijkamp

10:00 a.m.
The principal of Opportunity, Alabama's high school finishes her speech, welcoming the entire student body to a new semester and encouraging them to excel and achieve.

10:02 a.m.
The students get up to leave the auditorium for their next class.

10:03
The auditorium doors won't open.

10:05
Someone starts shooting.

Told over the span of 54 harrowing minutes from four different perspectives, terror reigns as one student's calculated revenge turns into the ultimate game of survival.
Description taken from Goodreads. 
---
Thankful for _______
Before I was an author, before I was a writer, I was a reader.

I read ferociously. I read passionately. I read everything from cereal boxes to soup cans to newspapers to books. All the books I could get my hands on. I read my way through the entire children's section of my library. I read my way through the entire teen section. I read my way through most of the rest of the library too.

Most of my friends were readers. We bonded over book love and book hate. We bonded over theories and favorites and head canons. We discussed the hidden meaning of certain words. We argued forever about the quality of that book one of us liked and the other one didn't.

Now that I'm a writer, I'm still a reader.

Most of my friends still are readers. All of these discussions still happen. We read, explore, dissect. We fall in love or out of love with books. We're disappointed by some books and have our hearts broken by others.

And now that I'm an author, I'm also being read. Or rather, my books are. As advance reading copies. As ebooks, soon. As hardcovers. My book has readers.

It's the wildest experience and one you're never quite prepared for. It's the best experience too. And as a debut author in an event called "Thankful for Words", it is by far what I'm most grateful for. Because without passionate readers, those words would be meaningless. They'd probably not even be there. After all, who would we all tell our stories to if no one listened?

So I'm thankful for readers who fall so head-over-heels in love with a book they shout it from the rooftops. I'm thankful for readers who find that one book they are meant to read and are changed by it. I'm thankful for readers who hate one book (and that may well be mine – I don't like all books either) and instead become the most passionate supporters of another. I'm thankful for readers who haven't quite found their perfect book yet, who haven't found themselves in a book yet, but who nevertheless keep looking.

And I'm thankful for different tastes and different preferences and different literary experiences. Because besides getting lost in a book, the best thing about a book is getting to share it, discuss it, argue about it, and getting to be readers together, with all of our interpretations and all of our truths.

Because I may be an author and I may be a writer, but I'm also, always, a reader.
---
About Marieke
Marieke Nijkamp is a storyteller, dreamer, globe-trotter, geek. She in philosophy, history, and medieval studies, and wants to grow up to be a time traveler. Her debut young adult novel This Is Where It Ends will be published by Sourcebooks Fire on January 5, 2016.
(http://www.mariekenijkamp.com)
---
Thanks so much to Marieke for doing this post (and for being thankful for readers :D). Be sure here to find at her website and Twitter for awesome diverse lit news and updates on THIS IS WHERE IT ENDS. Comment below with what book or books made you a reader! Tomorrow's author is Lindsay Smith!