Welcome to week 2 of Thankful for Words! This week, we're celebrating returning authors and today I'm thankful for returning fantasy authors. The fantasy author for today is:
Lindsay Smith (Author of Dreamstrider)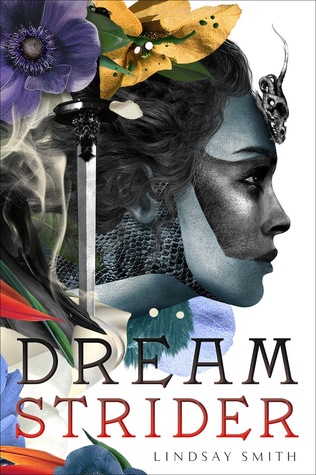 Title: Dreamstrider

Author: Lindsay Smith

A high-concept, fantastical espionage novel set in a world where dreams are the ultimate form of political intelligence.

Livia is a dreamstrider. She can inhabit a subject's body while they are sleeping and, for a short time, move around in their skin. She uses her talent to work as a spy for the Barstadt Empire. But her partner, Brandt, has lately become distant, and when Marez comes to join their team from a neighborhing kingdom, he offers Livia the option of a life she had never dared to imagine. Livia knows of no other dreamstriders who have survived the pull of Nightmare. So only she understands the stakes when a plot against the Empire emerges that threatens to consume both the dreaming world and the waking one with misery and rage.

A richly conceived world full of political intrigue and fantastical dream sequences, at its heart Dreamstrider is about a girl who is struggling to live up to the potential before her.
Description taken from Goodreads. 
---
Interview
As a returning author, how was writing DREAMSTRIDER different from writing SKANDAL and SEKRET? 

The main difference for me was writing in the fantasy genre now instead of the historical. I still needed a great deal of details about the world on the page to bring it to life, but this time, I got to invent them instead of research them. Sometimes I could craft the details of the world to suit the larger themes I wanted to address in plot; sometimes I could just create them for fun!

The cover for DREAMSTRIDER is gorgeous. In gif(s), how did you react when you saw it? 

I clicked on the email like

Then I was

Staring at it like

And finally

If you were a dreamstrider, what author's dreams would you infiltrate and what would you do?

I imagine Maggie Stiefvater has some pretty dark and twisty dreams. Those would be interesting to steal for myself! Errr . . . or just watch. Sorry, Maggie.

Honestly, I wouldn't mind being able to manipulate my own dreams. I have gotten one great story idea from them before (not Dreamstrider), but usually they're frustrating, boring grown-up dreams in which I spend five hours trying to pay a bill or something tragic like that.

What's the biggest difference between Yulia and Livia?

Yulia is driven, in large part, by an urge to rebel and make her own way in the world. Livia, on the other hand, is a classic people pleaser—overly eager to prove her worth and not let down those who rely on her, like she has in the past. Where Yulia resents her power, Livia feels unworthy of hers. I'm not entirely sure they would get along, either! Maybe the Yulia at the end of Skandal would sympathize with Livia at the end of Dreamstrider, but definitely not earlier in their respective arcs.

What is one thing you want readers to know about DREAMSTRIDER before reading?

Livia's struggles in Dreamstrider are very specific to her world, but I think everyone can relate to her feelings of not being enough or of not becoming who she thinks she was meant to become. I wanted to upend the "Chosen One" trope with this book, and hopefully inspire others to awaken their dreams.

If you were transported to the world of DREAMSTRIDER, what is one place you would want to see or visit?

I'd love to enter the dreamworld! I know what my mind was able to create to replicate the lifelong wishes and dreams of the dreamshapers there, but I'm sure seeing the real thing would be even more awe-inspiring.

Out of all your characters, who is your favorite to write?

I had way too much fun writing Marez in Dreamstrider—suave and sultry and always with a clever retort. In the Sekret universe, I loved writing Yulia's parents the most—so much that I wrote them their own digital prequel, Kursed.

Was there anything you learned from writing your previous books that made the process of writing DREAMSTRIDER easier?

Dreamstrider was actually the painfully difficult book that made all the subsequent ones easier! I'd struggled with dozens of revision rounds on previous books and this one, and I finally had to accept that the kinds of plots I'm drawn to are just too complicated to write by the seat of my pants. I've switched to more detailed outlines now and it's greatly improved my writing speed while also reducing the amount of time I have to spend in revisions, untangling messy story threads.
---
About Lindsay
Lindsay Smith's love of Russian culture has taken her to Moscow, Saint Petersburg, and a reindeer festival in the middle of Siberia. She lives in Washington, DC, where she writes on foreign affairs. SEKRET is her first novel.
---
Thanks so much to Lindsay for appearing on TSW, and for doing this great interview! I loved getting to read this and know more after reading an ARC of Dreamstrider. Be sure to find Lindsay at her website and Twitter for all things DREAMSTRIDER/SEKRET related and comment below with what author's dreams you would want to watch! Tomorrow's author is Leila Sales.