Today I'm thankful for returning contemporary authors, and the contemporary author I'm thankful for is:
Leila Sales (Author of Tonight the Streets Are Ours)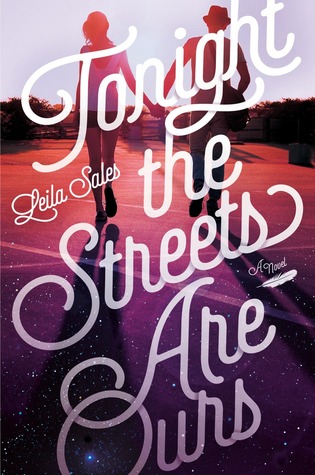 Title: Tonight the Streets Are Ours

Author: Leila Sales

From the author of This Song Will Save Your Life comes a funny and relatable book about the hazards of falling for a person you haven't met yet.

Seventeen-year-old Arden Huntley is recklessly loyal. Taking care of her loved ones is what gives Arden purpose in her life and makes her feel like she matters. But she's tired of being loyal to people who don't appreciate her—including her needy best friend and her absent mom.

Arden finds comfort in a blog she stumbles upon called "Tonight the Streets Are Ours," the musings of a young New York City writer named Peter. When Peter is dumped by the girlfriend he blogs about, Arden decides to take a road trip to see him.

During one crazy night out in NYC filled with parties, dancing, and music—the type of night when anything can happen, and nearly everything does—Arden discovers that Peter isn't exactly who she thought he was. And maybe she isn't exactly who she thought she was, either.
Description taken from Goodreads. 
---
Top Ten Favorite Bloggers, Vloggers and Online Writers
My new novel, TONIGHT THE SREETS ARE OURS, is about a girl who becomes fascinated by a blogger from afar. She loves his writing so much that she just wants to meet him in person. So for this post I've made a list of some of my favorite online writers.

1) The Fug Girls (

http://www.gofugyourself.com/

). I don't know much about fashion and celebrities, but Heather and Jessica's writing is so funny that I want to read every post they write, even when it's about a famous person I've never heard of. (But especially when it's about Kate and Will.)

2) Mallory Ortberg (

http://the-toast.net/author/mallory-ortberg/

). She is so quotable and hilarious. My friend once described Mallory Ortberg as "the best possible use for a liberal arts education," and I couldn't have put it better myself.

3) Heather Havrilesky (

http://nymag.com/author/Heather%20Havrilesky/#

). Like every online writer whose work I adore, Heather Havrilesky is funny, but she's also very wise. She writes an "existential advice column" called Dear Polly, and I don't know what technically makes advice "existential," but I do know that I care about basically every question she answers.

4) Allie Brosh (

http://hyperboleandahalf.blogspot.com/

). If you don't read Hyperbole and a Half, you are doing yourself a disservice. Go click on this link. And then buy Allie Brosh's book and read that too. Or buy multiple copies and give them to your friends and ask frequently whether or not they've read it yet. That's what I do.

5) Caity Weaver (

http://bestrestaurant.gawker.com/?startTime=1430409600196

). She and Rich Juzwiak did an amazing series of articles where they tried to find "the best restaurant in New York," which included reviews of the American Girl Doll Cafe, the restaurant at the Urban Outfitters, and the basement of Macy's. They are ridiculous and have boundless enthusiasm.

6) Lindy West (

http://lindywest.net/

). She's funny and smart and a fighter, and I honestly believe that if everyone read her work, we would like in a more compassionate and thoughtful world. Also people would laugh more.

I could keep going, but usually once I've read all those writers' new posts, it's more than time for me to get back to my own writing! Who are some of YOUR favorite bloggers? Who should I add to my list?
---
About Leila
Leila Sales was born in 1984 and grew up outside of Boston, Massachusetts. She graduated from the University of Chicago with a degree in psychology in 2006. Now she lives in Brooklyn, New York, and works in the mostly glamorous world of children's book publishing. Leila spends most of her time thinking about sleeping, kittens, dance parties, and stories that she wants to write.
---
Thanks so much to Leila for appearing on TSW, and for doing this great guest post. I read and loved TONIGHT THE STREETS ARE OURS, and it was great to have Leila on the blog again after THIS SONG WILL SAVE YOUR LIFE. Be sure to find Leila at her website, Twitter and Facebook for all things TONIGHT THE STREETS ARE OURS related and comment below with what bloggers/writers you love! Tonight's author is Jessica Verdi.