Today I'm thankful for returning science fiction authors, and the sci-fi author I'm thankful for is:
Anne Blankman (Author of Conspiracy of Blood and Smoke)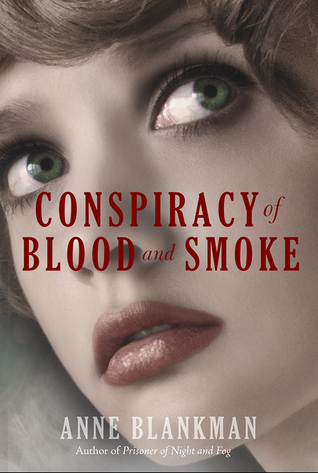 Title: Conspiracy of Blood and Smoke

Author: Anne Blankman

The girl known as Gretchen Whitestone has a secret: She used to be part of Adolf Hitler's inner circle. More than a year after she made an enemy of her old family friend and fled Munich, she lives with a kindly English family, posing as an ordinary German immigrant, and is preparing to graduate from high school. Her love, Daniel Cohen, is a reporter in town. For the first time in her life, Gretchen is content.

But then, Daniel gets a telegram that sends him back to Germany, and Gretchen's world turns upside-down. And when she receives word that Daniel is wanted for murder, she has to face the danger she thought she'd escaped-and return to her homeland.

Gretchen must do everything she can to avoid capture and recognition, even though saving Daniel will mean consorting with her former friends, the Nazi elite. And as they work to clear Daniel's name, Gretchen and Daniel discover a deadly conspiracy stretching from the slums of Berlin to the Reichstag itself. Can they dig up the explosive truth and get out in time-or will Hitler discover them first?
Description taken from Goodreads. 
---
Top Ten Facts That Didn't Make it Into the Prisoner of Night and Fog Duology
One of my favorite parts of writing historical fiction is doing research. Sometimes, though, it's the most frustrating—especially when I find a fascinating detail I can't use. Maybe my character wouldn't know the information, or it's an event that occurs after my story's timeframe. I ran into this problem a lot while working on Prisoner of Night and Fog and its sequel, Conspiracy of Blood and Smoke. So today I've decided to share the top ten most interesting facts I uncovered while researching this duology that didn't make it into the books.

Adolf Hitler's father was born Alis Schicklgruber. When he was forty, he took on his adoptive father's last name, Hiedler, which somehow ended up as Hitler.
In Prisoner of Night and Fog, Gretchen, the main character, learns that Hitler lived in Vienna when he was a teenager, but she can't find out anything about his time there. The reason Hitler shrouded his Vienna years in secrecy? For part of them, he was homeless.
Hitler's half-nephew, Patrick, fought for the U.S. Navy during World War Two.
In Germany during the 1920s, there was a sudden spike in serial killers, including infamous murderers Georg Haarmann, Carl Grossmann, and Peter Kürten. Real-life Berlin homicide detective Ernst Gennat, who appears in Conspiracy of Blood and Smoke, investigated many of the decade's most horrifying crimes and coined the phrase "serial murderer" in an article about Kürten, the so-called Vampire of Dusseldorf.
Hitler was TIME magazine's 1938's Man of the Year.
His favorite movie was King Kong.
He went around whistling "Who's Afraid of the Big, Bad Wolf?"
He liked to call himself Herr Wolf.
After 1933, Hitler no longer allowed maps of Germany to leave the country. Some historians believe that even then Hitler intended to start a war, and he didn't want other countries to know the locations of German rail lines, factories, and military bases.
Hitler sported such a little mustache because he thought it made his nostrils look smaller.

Thanks so much for having me, Eli! For those of you wondering about my next book, it's titled Traitor Angels and will be out on May 3, 2016! It's a YA romantic adventure about a girl who discovers an explosive secret concealed in the famous poem "Paradise Lost"—a secret that tear apart the very fabric of society.
---
About Anne
Anne Blankman may have been meant to be a writer because her parents named her for Anne of Green Gables. She grew up in an old house with gables (gray, unfortunately) in upstate New York. When she wasn't writing or reading, she was rowing on the crew team, taking ballet lessons, fencing and swimming. She graduated from Union College with degrees in English and history, which comes in handy when she writes historical fiction.
After earning a master's degree in information science, Anne began working as a youth services librarian. Currently, she lives in southeastern Virginia with her family. When she's not writing young adult fiction, she's playing with her daughter, training for races with her husband, working at her amazing library branch, learning to knit (badly), and reading.
Anne Blankman is the author of PRISONER OF NIGHT AND FOG, the first in a three-book deal slated for publication in spring 2014 from Balzer + Bray | HarperCollins. She is represented by Tracey Adams of Adams Literary.
---
Thanks so much to Anne for coming onto The Silver Words again for CONSPIRACY OF BLOOD AND SMOKE! Be sure to find her at her website and Twitter for all of Anne's historical fiction. If you could go to any time period in history, where would you go? Comment below! Next week's theme is Thankful for Aspiring Authors, and tomorrow's guest post will be by John Hansen.