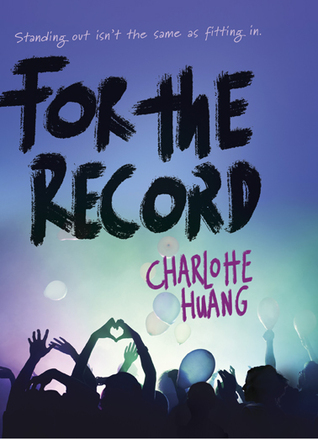 Title: For the Record

Author: Charlotte Huang

If Almost Famous were a YA novel… a raw, honest debut celebrating music, friendship, romance, and life on the road.

Chelsea thought she knew what being a rock star was like… until she became one. After losing a TV talent show, she slid back into small-town anonymity. But one phone call changed everything

Now she's the lead singer of the band Melbourne, performing in sold-out clubs every night and living on a bus with three gorgeous and talented guys. The bummer is that the band barely tolerates her. And when teen heartthrob Lucas Rivers take an interest in her, Chelsea is suddenly famous, bringing Melbourne to the next level—not that they're happy about that. Her feelings for Beckett, Melbourne's bassist, are making life even more complicated.

Chelsea only has the summer tour to make the band—and their fans—love her. If she doesn't, she'll be back in Michigan for senior year, dying a slow death. The paparazzi, the haters, the grueling schedule… Chelsea believed she could handle it. But what if she can't?
Description taken from Goodreads.
---
I loved being a part of the cover reveal for this book, and I can't wait to post my review! More on that to come :D but for now, as a part of the Sunday Street Team (click the button above for more details on how to get involved!) here's my interview with Charlotte:
Interview
Why did you name your characters the way you did? Is there any special significance to their names?
For the original band members of Melbourne, I chose names that I thought had the feel of the NYC/elite boarding school background that they all share. For the main character, Chelsea Ford, I wanted a name that would feel unique and cool—worthy of a rockstar!–but still relatable.
What was the hardest part of writing FOR THE RECORD? 
By far the hardest part was getting the tour itinerary to line up correctly with the story itself. Because I really wanted this book to feel as authentic as possible, my husband, Andrew, very sweetly routed an actual, doable tour for Melbourne. But since I haven't been to every single city and venue on the tour, I had to ask him to align the ones I know with moments in the narrative where I wanted to take more time, while maintaining feasible bus travel times between cities. This process was not easy, to say the least!
Have you ever thought about becoming a musician?
Of course it's fun to imagine, but no! I know my limitations. I have stage fright and no musical talent to speak of. I won't even do karaoke.
If you were to compare Melbourne to any band out there, what band would you pick?
Well, not to be annoying and I know this is kind of a cop out, but I really wouldn't want to steer a reader toward imagining a certain type of band. What if they hate the band I mention? I will say that they're great musicians and writers, and that music critics love them.
Is there any hope for companion novels about the other band members?
They were so much fun to write and I would love to tell more of their stories! I wonder which band member in particular people would want to read about.
Do you have a favorite in Melbourne? 
I really and truly love them all. I think my favorite at any given moment would depend on my mood. I think of a band as like a family–if you get sick of one band mate, you can always go hang out with one of the other ones. That said, I have a soft spot for Malcolm. I think being the easy going one in a group of alpha personalities is a special thing.
What have you been reading recently?
I'm still catching up on all the wonderful books written by my fellow 2015 debut authors! However, at this particular moment, a couple weeks out from the release of FOR THE RECORD, it's hard for me to absorb any fiction. So I recently finished WHY NOT ME? by Mindy Kaling. It's great! Not surprisingly, there's a lot of solid advice for creative types in it.
What Harry Potter houses would your characters be sorted into?
Okay, brace yourselves.

Chelsea: Gryffindor

Beckett: Ravenclaw

Pem: Slytherin

Malcolm: Slytherin

Mandy: Slytherin

Lucas: Gryffindor

I know. But after careful consideration, that's what I've come up with. It kind of bums me out that none of them are Hufflepuffs. Especially because I supposedly am one.
Was there a time when you didn't feel like you could write FOR THE RECORD?
Not exactly. I did have the idea well before I actually wrote it but I don't know that anything specific really prevented me from starting it. There was another story I wanted to tell and this one just had to wait its turn. I am glad that I let myself subconsciously gather information over the course of years though, because I think when it came to writing, it made things that much easier.
If you were winning an award for FOR THE RECORD, what author would you thank as either an inspiration or a supporter?
This one is a no-brainer, except I have to name two people. I would thank Chandler Baker, author of ALIVE and the upcoming High School Horror Stories series, because she's awesome and took a chance on me as a critique partner when she was already agented and I hadn't even finished my first novel yet. I would also thank Michelle Krys, author of HEXED and CHARMED. She co-hosted an online pitch contest and extracted my query letter and work from the slush pile for agents to see. We now share an agent and editor. I adore them both and would probably still be floundering without them.
Thanks to the SST for hosting this blog tour, and to Charlotte for doing this interview. You can read more about Charlotte below, and be sure to follow her on her social media to keep up with FOR THE RECORD!
About the Author
Charlotte Huang is a graduate of Smith College and received an MBA from Columbia Business School, which is clearly something every aspiring writer should do. When not glued to her computer, she cheers her two sons on at sporting events and sometimes manages to stay up late enough to check out bands with her music agent husband. Charlotte lives in Los Angeles and is the author of For the Record (Delacorte, 2015)
Giveaway