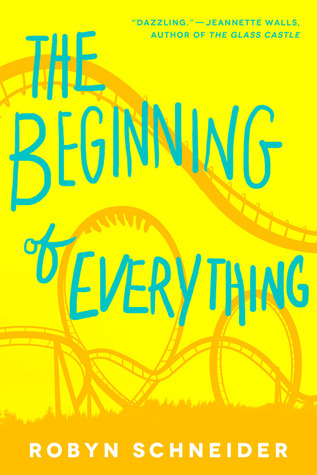 Golden boy Ezra Faulkner believes everyone has a tragedy waiting for them—a single encounter after which everything that really matters will happen. His particular tragedy waited until he was primed to lose it all: in one spectacular night, a reckless driver shatters Ezra's knee, his athletic career, and his social life.

No longer a front-runner for Homecoming King, Ezra finds himself at the table of misfits, where he encounters new girl Cassidy Thorpe. Cassidy is unlike anyone Ezra's ever met, achingly effortless, fiercely intelligent, and determined to bring Ezra along on her endless adventures.

But as Ezra dives into his new studies, new friendships, and new love, he learns that some people, like books, are easy to misread. And now he must consider: if one's singular tragedy has already hit and everything after it has mattered quite a bit, what happens when more misfortune strikes?

Robyn Schneider's The Beginning of Everything is a lyrical, witty, and heart-wrenching novel about how difficult it is to play the part that people expect, and how new beginnings can stem from abrupt and tragic endings.
Description taken from Goodreads.
---
Disappointing. In a word, that is this book. However, some books are more than just the sum of their parts, like people, and this is one of those books.
THE BEGINNING OF EVERYTHING had a great beginning, for one thing. It really shows the way that Ezra feels like he's lost everything, from his sport to his best friends, even if other people don't see it that way. Ezra's popular, but he's also smart and a little nerdy. I don't know how to describe him exactly, but Robyn Schneider did a fantastic job of developing him and making him more than just a nerdy character or just a popular kid. Too often, authors force their characters into a mold, but Schneider didn't do that with any of her characters. They felt organic, and I respected that.
I also really enjoyed the supporting cast. Cassidy and Toby in particular were great. I did think that some of the characters faded into the background, but that's not totally a bad thing. Some of the characters were irritating when they were supposed to be funny, but all in all I liked the debate team and how Ezra came to make friends with them.
World-building was enjoyable, but not anything super notable. Other than the characters and the beginning plot, I really liked the whole debate aspect. Schneider did a really good job of working great history and science references into what was going on, and I actually had a lot of fun with the different concepts and the debate competitions.
One thing that went really wrong that was the main reason why I couldn't love this book is that the ending was cliché. It wasn't just that even. It was cliché and it was rushed and it wasn't enough. There are a few popular YA books with similar endings, and they just barely pulled it off. For those of you wanting a happy-ending contemporary, this is not what you're looking for. Similar books might be AN ABUNDANCE OF KATHERINES by John Green, SIDE EFFECTS MAY VARY by Julie Murphy and ELEANOR & PARK by Rainbow Rowell.
This story was disappointing, after everything, but it still had some truly great themes to it, and for those reasons I would recommend this book to select people. If the good things above appeal to you and you're willing to risk an unsatisfactory ending, I would definitely recommend this book. Otherwise, I probably wouldn't recommend it to others, but I will be checking out some of Schneider's other works. 3 stars.
pg count for the