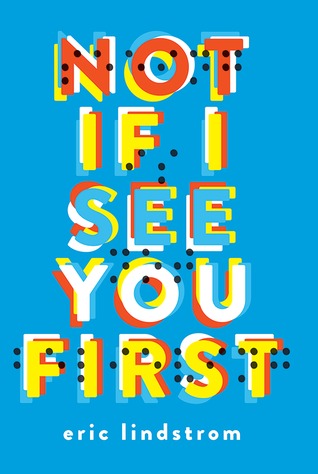 The Rules:

Don't deceive me. Ever. Especially using my blindness. Especially in public.

Don't help me unless I ask. Otherwise you're just getting in my way or bothering me.

Don't be weird. Seriously, other than having my eyes closed all the time, I'm just like you only smarter.
Parker Grant doesn't need 20/20 vision to see right through you. That's why she created the Rules: Don't treat her any differently just because she's blind, and never take advantage. There will be no second chances. Just ask Scott Kilpatrick, the boy who broke her heart.

When Scott suddenly reappears in her life after being gone for years, Parker knows there's only one way to react-shun him so hard it hurts. She has enough on her mind already, like trying out for the track team (that's right, her eyes don't work but her legs still do), doling out tough-love advice to her painfully naive classmates, and giving herself gold stars for every day she hasn't cried since her dad's death three months ago. But avoiding her past quickly proves impossible, and the more Parker learns about what really happened–both with Scott, and her dad–the more she starts to question if things are always as they seem. Maybe, just maybe, some Rules are meant to be broken.
Description taken from Goodreads. I received an advance copy of this book, published December 1st, 2015, via the publisher in exchange for an honest review. These opinions are my own. All quotes below should be checked against the final edition. 
---
For most of this book, I had really mixed feelings, mostly because of the main character, Parker. I didn't know whether to label her as a jerk or a victim who can't be blamed for the way she acts.
Looking back on it, she's blind, not mentally ill. Someone who is mean is mean in my book, regardless of handicap status. I understand some of the comments she made, but some, like the ones below, were just unnecessary.
"You can't take it back," I say, just as a fact, not an accusation. "I know there's something in there. Spit it out before it gets infected."
Or
She sounds like she means it. Like I'm hurting her feelings. But if someone's feelings get hurt when they insist on giving me something I don't want, I don't see how that's my fault. It doesn't get us anywhere, though.
For the most part, I enjoyed NOT IF I SEE YOU FIRST. Even though I didn't always love Parker's personality, I enjoyed her voice and the relationships she had with other people. In particular, I liked her friends and her cousin, Pete. The supporting characters weren't fully fleshed out, and I didn't understand why some of the characters were in the story at all, but all of them had distinct personalities.
Even though this story is both instalove-based and a love triangle, the romance could've been a lot worse.
The best and worst part of NOT IF I SEE YOU FIRST was the plot. In the beginning, I loved the plot. It, along with the worldbuilding, was set up really well. The backstory was fun to read about, and I got a feel for who everyone was quickly.
Later on, once the backstory had been revealed, I knew all the characters and Parker's narration of her struggles turned into a pity party of 1–
–I started to lose interest.
The plot scattered, turning into a mixture of barely intelligible plots and sub-plots, tangents and drawn-out scenes. The pacing that I'd really admired turned to dust, and the sweet romance turned into nothing but a shallow relationship put on paper.
All in all, NOT IF I SEE YOU FIRST could've been something great. Truly great. But in the end, I felt like the storytelling was weak and it didn't (in any way) live up to the beginning of the novel. I did like this read for accurately describing Parker's thoughts, and I would recommend it for that aspect. However, solely based on contemporary value alone, there are much better books to read. For similar themes, check out Bethany Crandell's SUMMER ON THE SHORT BUS or Gordon Korman's UNGIFTED. 2 stars.
pg count for the hardback: 320