One of my goals for 2016 was to support every single Sweet Sixteen author, the middle-grade authors publicized through Tweens Read Too, the young-adult authors publicized through The Silver Words. What I didn't know when I made that goal was that there are 175 Sweet Sixteen authors, and 75% of those authors are YA authors.
The reason why I made that goal was because of the amazing experience I had with the YA Valentines in 2014. I still work with and keep in touch with those authors nearly two years later, and they're some of my best author friends.
I compiled all of these authors into separate spreadsheets only to realize that I didn't want to just host these authors maybe once or twice. I wanted to create websites (like I did for Lynne Matson's NIL UNLOCKED) and really make a difference in street teams like I did on Paula Stokes' #LoyalLiars. Because of this, I cut down the list to 32 YA authors whose books I'm really passionate about supporting this year, and 16 authors in particular that I can't wait to start working with!
---
The Distance from A to Z by Natalie Blitt
Expected Publication: January 12th
Find Natalie: Ξ Website Ξ Goodreads Ξ Twitter Ξ Facebook Ξ
This full-length novel by debut author Natalie Blitt is a pitch-perfect blend of Stephanie Perkins and Miranda Kenneally that proves the age-old adage: opposites attract.

Seventeen-year old Abby has only one goal for her summer: to make sure she is fluent in French—well, that, and to get as far away from baseball and her Cubs-obsessed family as possible. A summer of culture and language, with no sports in sight.

That turns out to be impossible, though, because her French partner is the exact kind of boy she was hoping to avoid. Eight weeks. 120 hours of class. 80 hours of conversation practice with someone who seems to exclusively wear baseball caps and jerseys.

But Zeke in French is a different person than Zeke in English. And Abby can't help but fall for him, hard. As Abby begins to suspect that Zeke is hiding something, she has to decide if bridging the gap between the distance between who she is and who he is, is worth the risk.
Description from author website.
---
Sword and Verse by Kathy MacMillan
Expected Publication: January 19th
Find Kathy: Ξ Website Ξ Goodreads Ξ Twitter Ξ Facebook Ξ
Raisa was just a child when she was sold into slavery in the kingdom of Qilara. Despite her young age, her father had been adamant that she learn to read and write. But where she now lives, literacy is a capital offense for all but the nobility. The written language is closely protected, and only the King, Prince, Tutor, and Tutor-in-training are allowed to learn its very highest form. So when she is plucked from her menial labor and selected to replace the last Tutor-in-training who was executed, Raisa knows that betraying any hint of her past could mean death.

Keeping her secret guarded is hard enough, but the romance that's been blossoming between her and Prince Mati isn't helping matters. Then Raisa is approached by the Resistance—an underground rebel army—to help liberate the city's slaves. She wants to free her people, but that would mean aiding a war against Mati. As Raisa struggles with what to do, she discovers a secret that the Qilarites have been hiding for centuries—one that, if uncovered, could bring the kingdom to its knees.
Description from author website.
---
Assassin's Heart by Sarah Ahiers
Expected Publication: February 2nd
Find Sarah: Ξ Website Ξ Goodreads Ξ Twitter Ξ Pinterest Ξ
In the kingdom of Lovero, nine rival Families of assassins lawfully kill people for a price. As a highly skilled member of one of these powerful clans, seventeen-year-old Lea Saldana has always trusted in the strength of her Family. Until she awakens to find them murdered and her home in flames. The Da Vias, the Saldanas' biggest enemy, must be responsible—and Lea should have seen it coming. But her secret relationship with the Da Vias' son, Val, has clouded her otherwise killer instinct—and given the Da Vias more reason than ever to take her Family down.

Racked with guilt and shattered over Val's probable betrayal, Lea sets out to even the score, with her heart set on retaliation and only one thought clear in her mind: make the Da Vias pay.

With shades of The Godfather and Romeo and Juliet, this richly imagined fantasy from debut author Sarah Ahiers is a story of love, lies, and the ultimate vengeance.
Description from Goodreads.
---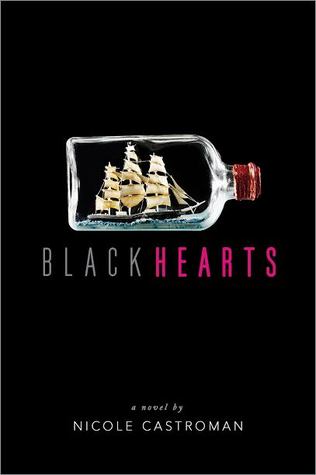 Blackhearts by Nicole Castroman
Expected Publication: February 9th
Find Nicole: Ξ Website Ξ Goodreads Ξ Twitter Ξ Facebook Ξ
Blackbeard the pirate was known for striking fear in the hearts of the bravest of sailors. But once he was just a young man who dreamed of leaving his rigid life behind to chase adventure in faraway lands. Nothing could stop him—until he met the one girl who would change everything.

Edward "Teach" Drummond, son of one of Bristol's richest merchants, has just returned from a year-long journey on the high seas to find his life in shambles. Betrothed to a girl he doesn't love and sick of the high society he was born into, Teach dreams only of returning to the vast ocean he'd begun to call home. There's just one problem: convincing his father to let him leave and never come back.

Following her parents' deaths, Anne Barrett is left penniless and soon to be homeless. Though she's barely worked a day in her life, Anne is forced to take a job as a maid in the home of Master Drummond. Lonely days stretch into weeks, and Anne longs for escape. How will she ever realize her dream of sailing to Curaçao—where her mother was born—when she's stuck in England?

From the moment Teach and Anne meet, they set the world ablaze. Drawn to each other, they're trapped by society and their own circumstances. Faced with an impossible choice, they must decide to chase their dreams and go, or follow their hearts and stay.
Description from Goodreads.
---
Beyond the Red by Ava Jae
Expected Publication: March 1st
Find Ava: Ξ Website Ξ Goodreads Ξ Twitter Ξ Facebook Ξ
Alien queen Kora has a problem as vast as the endless crimson deserts. She's the first female ruler of her territory in generations, but her people are rioting and call for her violent younger twin brother to take the throne. Despite assassination attempts, a mounting uprising of nomadic human rebels, and pressure to find a mate to help her rule, she's determined to protect her people from her brother's would-be tyrannical rule.

Eros is a rebel soldier hated by aliens and human alike for being a half-blood. Yet that doesn't stop him from defending his people, at least until Kora's soldiers raze his camp and take him captive. He's given an ultimatum: be an enslaved bodyguard to Kora, or be executed for his true identity—a secret kept even from him.

When Kora and Eros are framed for the attempted assassination of her betrothed, they flee. Their only chance of survival is to turn themselves in to the high court, where revealing Eros's secret could mean a swift public execution. But when they uncover a violent plot to end the human insurgency, they must find a way to work together to prevent genocide.
Description from Goodreads.
---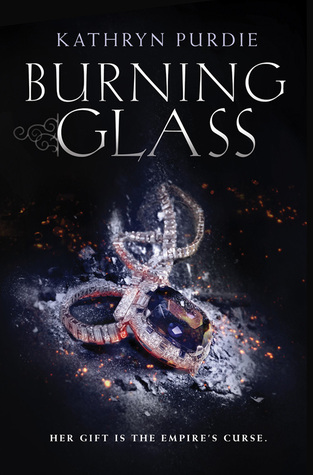 Burning Glass by Kathryn Purdie
Expected Publication: February 9th
Find Kathryn: Ξ Website Ξ Goodreads Ξ Twitter Ξ Facebook Ξ
Sonya was born with the rare gift to feel what those around her feel—both physically and emotionally—a gift she's kept hidden from the empire for seventeen long years. After a reckless mistake wipes out all the other girls with similar abilities, Sonya is hauled off to the palace and forced to serve the emperor as his sovereign Auraseer.

Tasked with sensing the intentions of would-be assassins, Sonya is under constant pressure to protect the emperor. One mistake, one small failure, will cost her own life and the lives of the few people left in the world who still trust her.

But Sonya's power is untamed and reckless, her feelings easily usurped, and she sometimes can't decipher when other people's impulses end and her own begin. In a palace full of warring emotions and looming darkness, Sonya fears that the biggest danger to the empire may be herself.

As she struggles to wrangle her abilities, Sonya seeks refuge in her tenuous alliances with the volatile Emperor Valko and his idealistic younger brother, Anton, the crown prince. But when threats of revolution pit the two brothers against each other, Sonya must choose which brother to trust—and which to betray.

BURNING GLASS is debut author Kathryn Purdie's stunning tale of dangerous magic, heart-rending romance, and the hard-won courage it takes to let go.
Description from Goodreads.
---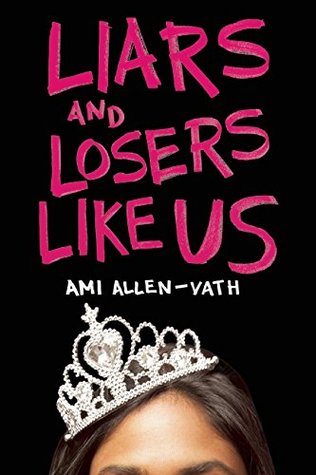 Liars and Losers Like Us by Ami Allen-Vath
Expected Publication: March 15th
Find Ami: Ξ Website Ξ Goodreads Ξ Twitter Ξ Pinterest Ξ
Keep calm and make it to prom night—without a legit panic attack.

For seventeen-year-old Bree Hughes, it's easier said than done when gossip, grief, and the opportunity to fail at love are practically high-fiving her in the hallways of Belmont High.

When Bree's crush, Sean Mills, gives her his phone number, she can't even leave a voicemail without sounding like a freak. Then she's asked to be on Prom Court because Maisey Morgan, the school outcast nominated as a joke, declined. She apologizes to Maisey, but it's too late. After years of torment and an ugly secret shared with their class's cruel Pageant Queen, Maisey commits suicide. Bree is left with a lot of regret…and a revealing letter with a final request.

With Sean by her side, Bree navigates through her guilt, her parents' divorce, and all the Prom Court drama. But when a cheating-love-triangle secret hits the fan after a night of sex, drinks, and video games, she's left with new information about Sean and the class Pageant Queen. Bree must now speak up or stay silent. If she lets fear be her guide, she'll lose her first love, and head to prom to avenge the death of the school outcast—as a party of one.
Description from Goodreads.
---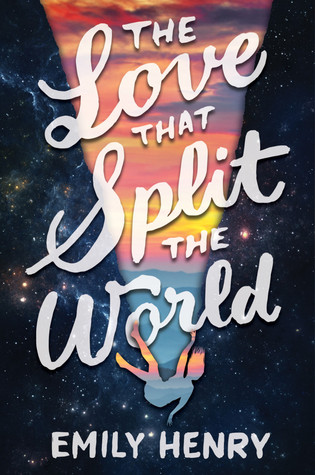 The Love that Split the World by Emily Henry
Expected Publication: January 26th
Find Emily: Ξ Goodreads Ξ Twitter Ξ
Natalie Cleary must risk her future and leap blindly into a vast unknown for the chance to build a new world with the boy she loves.

Natalie's last summer in her small Kentucky hometown is off to a magical start… until she starts seeing the "wrong things." They're just momentary glimpses at first—her front door is red instead of its usual green, there's a pre-school where the garden store should be. But then her whole town disappears for hours, fading away into rolling hills and grazing buffalo, and Nat knows something isn't right.

That's when she gets a visit from the kind but mysterious apparition she calls "Grandmother," who tells her: "You have three months to save him." The next night, under the stadium lights of the high school football field, she meets a beautiful boy named Beau, and it's as if time just stops and nothing exists. Nothing, except Natalie and Beau.

Emily Henry's stunning debut novel is Friday Night Lights meets The Time Traveler's Wife, and perfectly captures those bittersweet months after high school, when we dream not only of the future, but of all the roads and paths we've left untaken.
Description from Goodreads.
---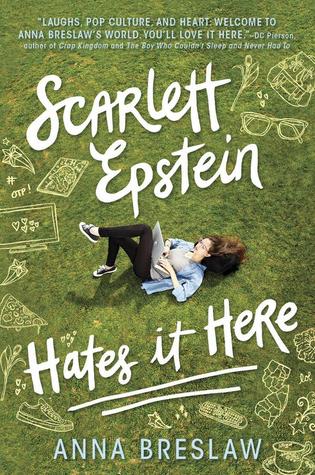 Scarlett Epstein Hates it Here by Anna Breslaw
Expected Publication: April 19th
Find Anna: Ξ Website Ξ Goodreads Ξ Twitter Ξ Instagram Ξ
Meet Scarlett Epstein, BNF (Big Name Fan) in her online community of fanfiction writers, world-class nobody at Melville High. Her best (read: only) IRL friends are Avery, a painfully shy and annoyingly attractive bookworm, and Ruth, her pot-smoking, possibly insane seventy-three-year-old neighbor.

When Scarlett's beloved TV show is canceled and her longtime crush, Gideon, is sucked out of her orbit and into the dark and distant world of Populars, Scarlett turns to the fanfic message boards for comfort. This time, though, her subjects aren't the swoon-worthy stars of her fave series—they're the real-life kids from her high school. Scarlett never considers what might happen if they were to find out what she truly thinks about them…until a dramatic series of events exposes a very different reality than Scarlett's stories, forever transforming her approach to relationships—both online and off.
Description from Goodreads.
---
Summer of Supernovas by Darcy Woods
Expected Publication: May 10th
Find Darcy: Ξ Website Ξ Goodreads Ξ Twitter Ξ Pinterest Ξ
As the daughter of an expert astrologer, Wilamena Carlisle knows that the truth lies within the stars. So when she discovers a rare planetary alignment, she is forced to tackle her worst astrological fear – The Fifth House of Relationships and Love. But Wil must decide whether a cosmically doomed love is worth rejecting her mother's legacy, when she falls for a sensitive guitar player hailing from the wrong side of the chart.

Debut author Darcy Woods explores love in all its complexities and how to best honor the loved ones who have passed before us, in a novel packed with both humor and heart.
Description from Goodreads.
---
The Museum of Heartbreak by Meg Leder
Expected Publication: May 16th
Find Meg: Ξ Website Ξ Goodreads Ξ Twitter Ξ
In this ode to all the things we gain and lose and gain again, seventeen-year-old Penelope Marx curates her own mini-museum to deal with all the heartbreaks of love, friendship, and growing up.

Welcome to the Museum of Heartbreak.

Well, actually, to Penelope Marx's personal museum. The one she creates after coming face to face with the devastating, lonely-making butt-kicking phenomenon known as heartbreak.

Heartbreak comes in all forms: There's Keats, the charmingly handsome new guy who couldn't be more perfect for her. There's possibly the worst person in the world, Cherisse, whose mission in life is to make Penelope miserable. There's Penelope's increasingly distant best friend Audrey. And then there's Penelope's other best friend, the equal-parts-infuriating-and-yet-somehow-amazing Eph, who has been all kinds of confusing lately.

But sometimes the biggest heartbreak of all is learning to let go of that wondrous time before you ever knew things could be broken.
Description from Goodreads.
---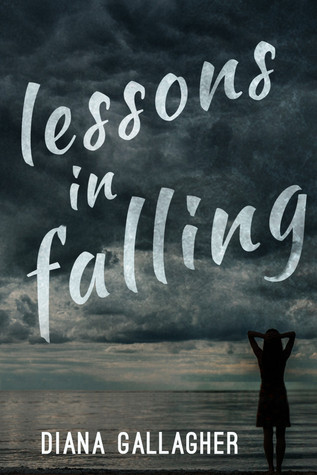 Lessons in Falling by Diana Gallagher
Expected Publication: June 21st
Find Diana: Ξ Website Ξ Goodreads Ξ Twitter Ξ
When Savannah Gregory blows out her knee –and her shot at a gymnastics scholarship – she decides she's done with the sport forever. Without gymnastics, she has more time for her best friend, Cassie. She's content to let her fun, impulsive best friend plan a memorable senior year.

That is, until Cassie tries to kill herself.

Savannah wants to understand what happened, but Cassie refuses to talk about it and for the first time, Savannah has to find her own way. The only person she can turn to is Marcos, the boy who saved Cassie's life. Being with him makes her see who she could be and what she really wants: gymnastics.

But Cassie doesn't approve of Marcos or of Savannah going back to gymnastics, and the tighter she tries to hold onto Savannah, the farther it pulls them apart. Without Cassie to call the shots, Savannah discovers how capable she is on her own—and that maybe her best friend's been holding her back all along.
Description from author website.
---
The Marked Girl by Lindsey Klingele
Expected Publication: June 21st
Find Lindsey: Ξ Website Ξ Goodreads Ξ Twitter Ξ Pinterest Ξ
Once upon a time, in a land far, far away (Los Angeles)…

When Cedric, crowned prince of Caelum, and his fellow royal friends (including his betrothed, Kat) find themselves stranded in modern-day L.A. via a magical portal and an evil traitor named Malquin, all they want to do is get home to Caelum—soon. Then they meet Liv, a filmmaker foster girl who just wants to get out of the system and on with her life. As she and Cedric bond, they'll discover that she's more connected to his world than they ever could've imagined…and that finding home is no easy task…

Worlds collide in The Marked Girl, an exciting fantasy tale turned upside down.
Description from Goodreads.
---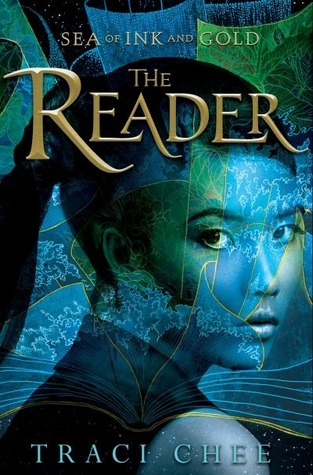 The Reader by Traci Chee
Expected Publication: September 13th
Find Traci: Ξ Website Ξ Goodreads Ξ Twitter Ξ Facebook Ξ
A stunning debut set in a world where reading is forbidden, perfect for fans of Inkheart and Shadow and Bone

Sefia knows what it means to survive. After her father is brutally murdered, she flees into the wilderness with her aunt Nin, who teaches her to hunt, track, and steal. But when Nin is kidnapped, leaving Sefia completely alone, none of her survival skills can help her discover where Nin's been taken, or if she's even alive. The only clue to both her aunt's disappearance and her father's murder is the odd rectangular object her father left behind, an object she comes to realize is a book—a marvelous item unheard of in her otherwise illiterate society. With the help of this book, and the aid of a mysterious stranger with dark secrets of his own, Sefia sets out to rescue her aunt and find out what really happened the day her father was killed—and punish the people responsible.

With overlapping stories of swashbuckling pirates and merciless assassins, The Reader is a brilliantly told adventure from an extraordinary new talent.
Description from Goodreads.
---
Genesis Girl by Jennifer Bardlsey
Expected Publication: September 27th
Find Jennifer: Ξ Website Ξ Goodreads Ξ Twitter Ξ Facebook Ξ
Eighteen-year-old Blanca has lived a sheltered life. Her entire childhood has been spent at Tabula Rasa School where she's been protected from the Internet.

Blanca has never been online and doesn't even know how to text. Her lack of a virtual footprint makes her extremely valuable, and upon graduation, Blanca and those like her are sold to the highest bidders.

Blanca is purchased by Cal McNeal, who uses her to achieve personal gain. But the McNeals are soon horrified by just how obedient and non-defiant Blanca is. All those mind-numbing years locked away from society have made her mind almost impenetrable.

By the time Blanca is ready to think for herself, she is trapped. Her only chance of escape is to go online.
Description from Goodreads.
---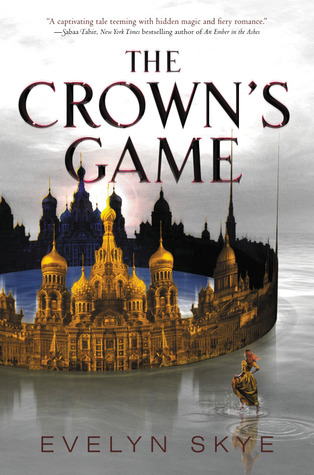 The Crown's Game by Evelyn Skye
Expected Publication: May 17th, 2016
Find Evelyn: Ξ Website Ξ Goodreads Ξ Twitter Ξ Facebook Ξ
Vika Andreyeva can summon the snow and turn ash into gold. Nikolai Karimov can see through walls and conjure bridges out of thin air. They are enchanters—the only two in Russia—and with the Ottoman Empire and the Kazakhs threatening, the Tsar needs a powerful enchanter by his side.

And so he initiates the Crown's Game, an ancient duel of magical skill—the greatest test an enchanter will ever know. The victor becomes the Imperial Enchanter and the Tsar's most respected adviser. The defeated is sentenced to death.

Raised on tiny Ovchinin Island her whole life, Vika is eager for the chance to show off her talent in the grand capital of Saint Petersburg. But can she kill another enchanter—even when his magic calls to her like nothing else ever has?

For Nikolai, an orphan, the Crown's Game is the chance of a lifetime. But his deadly opponent is a force to be reckoned with—beautiful, whip smart, imaginative—and he can't stop thinking about her.

And when Pasha, Nikolai's best friend and heir to the throne, also starts to fall for the mysterious enchantress, Nikolai must defeat the girl they both love . . . or be killed himself.

As long-buried secrets emerge, threatening the future of the empire, it becomes dangerously clear . . . the Crown's Game is not one to lose.
Description from Goodreads.
---
Those are my 16 most anticipated authors and books of 2016; what are yours? Leave a link in the comments below and I'll check it out!