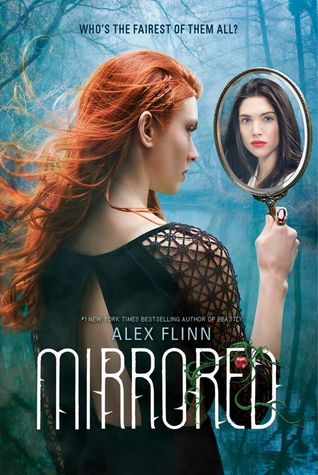 Mirror, mirror in my hand…

Beauty is the key to everything. At least, that's how it seems to Violet—ugly, bullied, and lonely. To be beautiful, in her eyes, is to have power and love. And when Kendra, the witch, teaches Violet how to use magic, she may finally get what she wants.

For Celine, beautiful since birth, her looks have been a hindrance. She discovers that beauty is also a threat—especially to her stepmother, Violet, who doesn't want anyone sharing the attention she worked so hard to get and who will do anything to be the fairest of them all.

But beauty isn't only skin deep and love isn't based on looks alone. And though Violet and Celine may seem to be completely opposite, their lives are almost… mirrored.
Description taken from Goodreads.
---
My great love for Alex Flinn and other authors who write fairy tale retellings well *COUGH* MARISSA MEYER *COUGH*
is no secret, and even I have to admit that MIRRORED was a little disappointing. Believe me, I've seen and heard the negative criticism for it, but I did actually care about what happened with Violet, so I decided to stick with the story through the boring parts.
And that's the thing: this story lacks meat. Compared to Flinn's other novels, it's practically vegetarian in terms of plot and character development. Even though I did like the characters, they were shallow and one-dimensional. There was a little bit of character growth in all of the characters, but that was abrupt and rushed.
The plot that there was felt almost unnatural. The "incidents" with which Violet attacks her enemies are ridiculous and hardly believable, and we're talking about magic here.
There were moments I liked, bits of narrative that were really well-written and enjoyable, but all in all, the story felt very off. The only part that gained speed was near the end when Flinn went into Celine's and Goose's relationship. I really enjoyed the two of them together and thought that they were really cute, however far-fetched the plot events were.
Overall, I feel like Flinn has much better novels. Take BEASTLY, for example, or perhaps CLOAKED. If you don't want to go the Alex Flinn route, Jackson Pearce and Marissa Meyer are both pretty cool as well. However, I wouldn't recommend MIRRORED unless you're a fan of the author. 2 stars.
pg count for the hardback: 384
**Oh, and by the way, when a person gets attacked in the modern day by some freak coincidence of nature, I don't think the first reaction someone would have is to start calling another person a "witch", let alone accuse that person of being a witch. If anything, I don't think that word would be starting with w.**