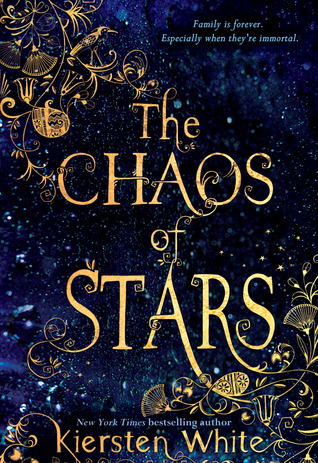 Kiersten White, New York Times bestselling author of Paranormalcy, is back with The Chaos of Stars—an enchanting novel set in Egypt and San Diego that captures the magic of first love and the eternally complicated truth about family.

Isadora's family is seriously screwed up—which comes with the territory when you're the human daughter of the ancient Egyptian gods Isis and Osiris. Isadora is tired of living with crazy relatives who think she's only worthy of a passing glance—so when she gets the chance to move to California with her brother, she jumps on it. But her new life comes with plenty of its own dramatic—and dangerous—complications . . . and Isadora quickly learns there's no such thing as a clean break from family.

Blending Ally Carter's humor and the romance of Cynthia Hand's Unearthly, The Chaos of Stars takes readers on an unforgettable journey halfway across the world and back, and proves there's no place like home.
Description taken from Goodreads.
---
I had to come back to this book. When I found out I hadn't written a review for it, I just had to.
I will read anything Kiersten White writes, and the CHAOS OF STARS was no exception. I was a little hesitant to read it back when I first read the reviews for it, because it seemed like it would be pretty boring, but as soon as I started, I couldn't stop.
It's true that this story isn't the most exciting. Egyptian mythology or not, this book is actually pretty lacking plot-wise. There are a few great moments in terms of family and friends, and that's really what this book is about: relationships, specifically Isadora's relationship with her mother.
There are a few things that not the best about this story, but I can't stop myself from loving it. There are many passages that are so true to real life, and this entire story is about Isadora learning when to let go and hold on. I was able to relate to it a lot, and even though I didn't always love Isadora, I sympathized with her, and I ended up liking a lot of the other characters as well.
When I went to the launch for Kiersten White's ILLUSIONS OF FATE (which was actually the book that ended up making me love her) Kiersten said that this book was "a story about [Isadora] learning that our parents aren't always what we need them to be," and that's completely accurate. Recommending this to anyone who enjoys Egyptian mythology, history and/or family relationships. 4 stars.
pg count for the hardback: 277