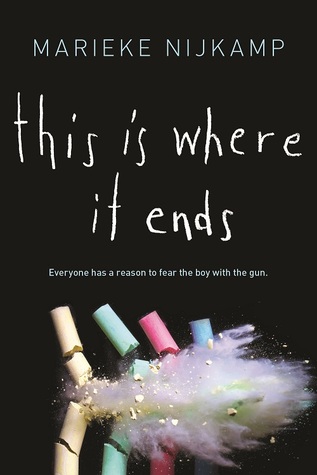 10:00 a.m.
The principal of Opportunity, Alabama's high school finishes her speech, welcoming the entire student body to a new semester and encouraging them to excel and achieve.

10:02 a.m.
The students get up to leave the auditorium for their next class.

10:03
The auditorium doors won't open.

10:05
Someone starts shooting.

Told over the span of 54 harrowing minutes from four different perspectives, terror reigns as one student's calculated revenge turns into the ultimate game of survival.
Description taken from Goodreads.
---
I enjoyed the concept of this book, and I feel like it was one that needed to be written, but the multiple-POV thing was too much. The character voices all blended together and I had no idea who was who. I kept on flipping back to keep track of each character's story. Maybe one to three voices worked, period, throughout the novel, but other than that, I was bored by the subplots.
Another thing that was really disappointing was the lack of development in Tyler (the shooter)'s character. There was nothing behind his story. It wasn't even clear what his motivation was exactly. I had to come to the conclusion, based off his actions revealed in the past, that there was something not right about him, not even mentally, but more in mindset, that drove him to do the things he did.
Still, I thought this story did a very poor job of trying to explain why certain plot points, and specifically the shooting itself, happened. It had so many opportunities to be great and to really teach a few important lessons, but next to none of those were touched upon.
Other than the POV and character issues, I ended up liking this story. Parts of it can become pretty haunting around the end because of the way Marieke writes the story, and this is definitely YA, but it wasn't anything too graphic, and it was far from terrifying (and this is coming from a person who had nightmares because of 3:59 and couldn't even review SHUTTER because it's horror).
If you're just reading this for the school shooting aspect, because you want to use it in a classroom or recommend it to kids, I wouldn't suggest reading it. I'm sure there will be other books to come that will do a better job of really talking through what every person involved went through. However, if you're looking for a book for yourself and you like realistic fiction, I would suggest you approach this book, but with caution. 2 stars.
pg count for the hardback: 292