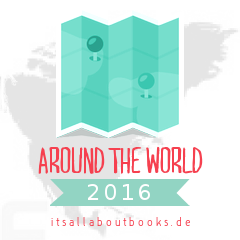 In past years, I haven't really been involved with blogging or reading challenges, so I decided to try something new this year and go for a few different challenges. Ironically, I found the Around the World 2016 Challenge through Nori's Commenting 365 Challenge. Both are great challenges, so if you're interested in either one, there's still time to sign up!
Here's a little bit about Around the World in the words of Crini over at All About Books (the blog hosting this challenge):
The goal of the Around the World challenge is to visit as many different places in the world through books, especially places that are rather rare, and not the kind of settings you see in 95% of all the books you read. We're are going to do this by creating a google map where every pin on the map stands for one book. The goal is to have as many pins as possible and they shouldn't be very close to each other but spread all over.
If you're interested in signing up for this challenge, read more about it on the All About Books blog post!
There are also mini-challenges involved in this challenge, and the ones I'm undertaking are listed below with the number of books I hope to read to fulfill those challenges.
Read one book for each continent (7)
Read a certain number of books set in at least 5 different places, like road trip books (5)
Visit a certain number of countries (10)
Read books from a certain number of authors from other countries (5)
Places I dream about going and haven't been
Below you can find my map for this challenge! If you're participating, make sure to leave a link in the comments so I can see your map and check out the books you're reading as well. :)