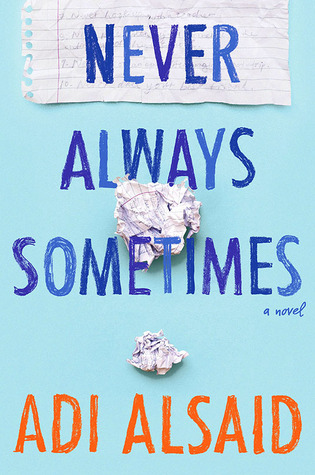 Never date your best friend.

Always be original.

Sometimes rules are meant to be broken.

Best friends Dave and Julia were determined to never be cliché high school kids—the ones who sit at the same lunch table every day, dissecting the drama from homeroom and plotting their campaigns for prom king and queen. They even wrote their own Never List of everything they vowed they'd never, ever do in high school.

Some of the rules have been easy to follow, like #5, never dye your hair a color of the rainbow, or #7, never hook up with a teacher. But Dave has a secret: he's broken rule #8, never pine silently after someone for the entirety of high school. It's either that or break rule #10, never date your best friend. Dave has loved Julia for as long as he can remember.

Julia is beautiful, wild and impetuous. So when she suggests they do every Never on the list, Dave is happy to play along. He even dyes his hair an unfortunate shade of green. It starts as a joke, but then a funny thing happens: Dave and Julia discover that by skipping the clichés, they've actually been missing out on high school. And maybe even on love.
Description taken from Goodreads.
---
I couldn't even get past the beginning of LET'S GET LOST, it was so boring. NEVER ALWAYS SOMETIMES, at least in the beginning was better. In fact, I breezed past the first 150 pages, no problem. Then it started going downhill from there.
A lot of bloggers have rejected this book because of how strange the characters are, but that wasn't really a problem for me. If you're willing to deal with suspended disbelief and you're in for a couple of very eccentric people, then you'll like Dave and Julia. However, because of that, I could only deal with these characters on a superficial level. I didn't feel like I knew them, or that they were real.
Sure, a lot of people felt the same way about TFIOS, and in many ways, NEVER ALWAYS SOMETIMES is yet another cliché, poorly-done attempt to recreate the flowery writing and romantic tragedy of THE FAULT IN OUR STARS. Where NEVER ALWAYS SOMETIMES differs is that it tries to explain the eccentricity of the characters, and they show their super unique selves through ridiculous acts (such as avoiding everything on the Nevers list).
My real problem with this book was the end. It felt like a total cop out. If you're interested in knowing why I hated the end so much, I have a spoilers version of this review up on Goodreads.
The ending ruined everything and made me question everything else in the book. If you're looking for a good read about best friends, go for Elizabeth Eulberg's Better Off Friends. 2 stars.