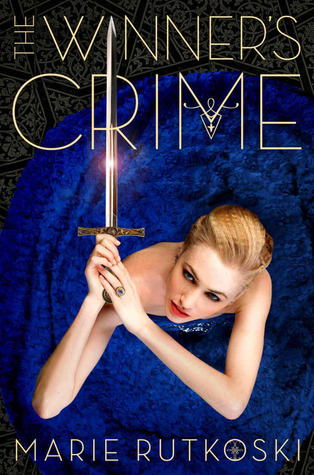 Book two of the dazzling Winner's Trilogy is a fight to the death as Kestrel risks betrayal of country for love.

The engagement of Lady Kestrel to Valoria's crown prince means one celebration after another. But to Kestrel it means living in a cage of her own making. As the wedding approaches, she aches to tell Arin the truth about her engagement… if she could only trust him. Yet can she even trust herself? For—unknown to Arin—Kestrel is becoming a skilled practitioner of deceit: an anonymous spy passing information to Herran, and close to uncovering a shocking secret.

As Arin enlists dangerous allies in the struggle to keep his country's freedom, he can't fight the suspicion that Kestrel knows more than she shows. In the end, it might not be a dagger in the dark that cuts him open, but the truth. And when that happens, Kestrel and Arin learn just how much their crimes will cost them.
Description taken from Goodreads.
---
For those of you wondering, THE WINNER'S CRIME is far better than THE WINNER'S CURSE was. In short, THE WINNER'S CRIME is incredible. I'm not one for the whole "court intrigue" aspect of many fantasy novels, mostly because it's not done correctly most of the time.
In this book, just like with Cinda William Chima's books, the court intrigue is done correctly.
Rutkoski painted the picture of the court perfectly. Every aspect of the world-building was well-done and I never felt like the descriptions were too much. I can't even begin to explain the perfection that was Kestrel within the court. She used her skills in strategy to her advantage, and I couldn't stop reading throughout the entire novel. I was always waiting to see what she'd do next. She was really the star of this novel.
To be honest, I didn't love Arin quite as much in this novel. I don't really know why everyone loves him. He's a great guy, and I respect him in the sense that he is a fighter. He works hard to achieve his goals and he's determined. I admire his loyalty to Kestrel, but also his open-mindedness and flexibility.
In terms of the romance, THE WINNER'S CRIME mostly consists of waiting. And waiting. And waiting. And then tension. And more waiting.
If the attention on the romance was exchanged for the darkness and seriousness of this novel, I can understand that, but I wasn't a fan of the romance in THE WINNER'S CRIME. If you LOVED Kestrel and Arin in book one, then you probably won't feel like this when reading book two.
This book is completely crazy. I'm still getting over my book hangover from it. If you enjoy fantasy at all (and amazing, complex characters and what-the-heck plot twists and EVERYTHING), read this series. 4.5 stars.
pg count for the hardback: 402
Series: The Winner's Curse #2