The Mondays Musts is a feature by Jessica @ Lovin' los Libros! Every Monday, you post about your must read, must listen and must watch.
Must Read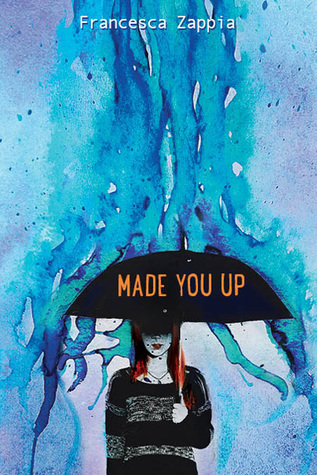 MADE YOU UP was one of my favorite books of 2015 and one of my five star nominations for last year, and the reason why it's there is because I can't stop reading it. Especially this week, I've been obsessed with reading my favorite moments of this story over and over again.
There are many YA novels these days that don't really portray people; they portray characters. MADE YOU UP has real issues and real people within it, and I loved every word of getting to know Miles and Alex. They're not a cute couple, but they're made for each other, and watching them come together was perfect. Plus, I have a thing for great unreliable narrators, and Alex played that role perfectly.
If you haven't read MADE YOU UP yet and you enjoy YA contemporary/mental illness/realistic fiction, I would strongly recommend this one. The writing was phenomenal, and it has a pretty cover to boot.
Must Listen
I'm a pretty big fan of Korean music, specifically K-pop, and I'm very partial to YG Family for several reasons that I won't go into here, but up until just a few weeks ago, I was anti-Winner. There are also a few reasons for this, but the main reason why I disliked Winner was because it's the rival of iKON. When the iKON and Winner members were still trainees, they went through a competition to determine who would debut first, and Winner won (hence the name) and iKON debuted second.
Long story short, I ended up hearing this song by accident and really enjoying it. While it's not the deepest of songs, and the dance is pretty girly, the song is cute and fluffy, and I've really enjoyed it this week. With Winner's debut coming up, I'm excited to see what they come out with!
Must Watch
I was reminded of THE GIVER a few days ago. While I wasn't a huge fan of the movie, this one particular snippet, where the memories come back, has always stood out to me. Many YA novels have tried and failed to replicate similar moments where the wonder and destruction of life are so apparent, but I think THE GIVER movie really got it right.
I don't know how long the clip will last before it gets taken down, but enjoy it while you can!
If you did a Monday Musts, make sure to link it below!