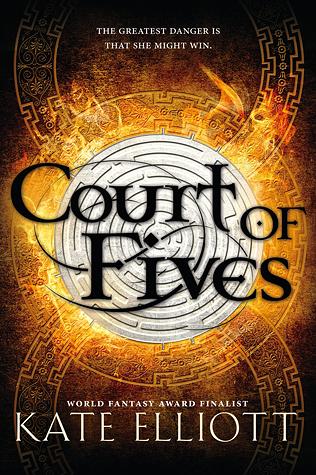 On the Fives court, everyone is equal.

And everyone is dangerous.

Jessamy's life is a balance between acting like an upper-class Patron and dreaming of the freedom of the Commoners. But away from her family, she can be whomever she wants when she sneaks out to train for the Fives, an intricate, multilevel athletic competition that offers a chance for glory to the kingdom's best competitors.

Then Jes meets Kalliarkos, and an improbable friendship between the two Fives competitors—one of mixed race and the other a Patron boy—causes heads to turn. When Kal's powerful, scheming uncle tears Jes's family apart, she'll have to test her new friend's loyalty and risk the vengeance of a royal clan to save her mother and sisters from certain death.

In this imaginative escape into an enthralling new world, World Fantasy Award finalist Kate Elliott's first young adult novel weaves an epic story of a girl struggling to do what she loves in a society suffocated by rules of class and privilege.
Description taken from Goodreads.
---
Court of Fives may have done better if it didn't sound like something right out of Little Women, and I love Little Women, but not when I'm trying to read fantasy. Jessamy's narration was boring and slow-paced, even during the parts with the mazes. Although I enjoyed the details about the world and the Fives, the narration as a whole was slow, irritating and disappointing.
The second part of this story that I couldn't stand was Jessamy. She was the only character who had any kind of development to her, and the development she had was shallow and short-sighted. She was selfish and arrogant, always trying to rebel against her family and not realizing that she could have what she wanted if she gave up her family. She was condescending and ungrateful for her sisters and mother even though they've always taken care of her and actually cover her back numerous times when she can't do it herself.
Even though I wanted to like this fantasy (it's actually not fantasy at all), it fell flat and I was disappointed with almost every aspect of it. 1 star.
Would Rather Recommend:
If you liked the whole Fives concept: The Maze Runner, The Winner's Curse, An Ember in the Ashes
If you liked the world setting: An Ember in the Ashes