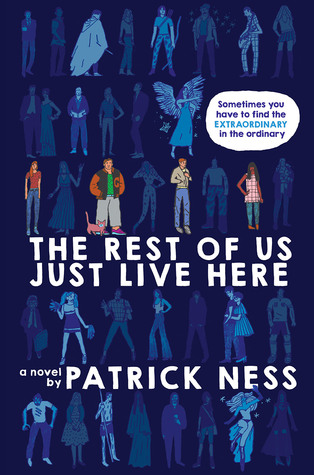 What if you aren't the Chosen One?

The one who's supposed to fight the zombies, or the soul-eating ghosts, or whatever the heck this new thing is, with the blue lights and the death?

What if you're like Mikey? Who just wants to graduate and go to prom and maybe finally work up the courage to ask Henna out before someone goes and blows up the high school. Again.

Because sometimes there are problems bigger than this week's end of the world, and sometimes you just have to find the extraordinary in your ordinary life.

Even if your best friend is worshipped by mountain lions.

Award-winning writer Patrick Ness's bold and irreverent novel powerfully reminds us that there are many different types of remarkable.
Description taken from Goodreads.
---
If you've been reading this blog for awhile, you may have noticed that I have a thing for supporting characters (see here, here and here). 
Patrick Ness took that love and ran with it, and it was brilliant literarily, but also very… supporting. I hate to say this about a Patrick Ness book, but in many ways, it was average. The characters weren't memorable; the plot was cliché and predictable.
In too many books, the supporting characters don't really matter. They're just there. They occasionally step in and do something, but otherwise they're not noticeable. It's only in certain novels, with certain writers, that supporting characters can be great and thoughtful and real without stealing the show. That's what I wanted from THE REST OF US JUST LIVE HERE, and I didn't get it.
But there were parts that I really enjoyed, moments where Ness perfectly captured what it means to just be on the sidelines instead of in the spotlight. We're all here living our own lives, and as the main characters in our own stories, sometimes it's easy to forget what other people are going through. THE REST OF US JUST LIVE HERE made me think about that a lot.
"What's important is that I know how much you worry about shit. And what's also important is that I know a big part of that worry is, no matter what group of friends you're in, no matter how long you've known them, you always assume you're the least-wanted person there. The one everyone else could do without." (121 Ness)
The chapters always begin with what's going in the "indie kids'" lives. They're the heroes, the stars of the show, and yet we only see snapshots of their journeys. It's hard to explain completely, but this book as a whole was more than just everyday or boring or a lesson in slow pacing. It demonstrates Ness' love for fantasy, and the way that we all see stories.
Even though it's not the best book I've ever read, and even though I'm still waiting for that great book about supporting characters, THE REST OF US JUST LIVE HERE has made me think about stories and the characters that tell them, and for that, this was entirely worth the read.
I would recommend this if you're a fan of Patrick Ness, fantasy or just make-you-think writing. 3 stars.
pg count for the hardback: 352